Men's Fashion Week SS15 may be over, but there are vital style lessons to be noted, both on and off the catwalk…

By Laura Hawkins
The Trend to look forward to: The Seventies
Your style heroes for SS15? Mick Jagger, Jimi Hendrix and Jim Morrison. Look to Costume National for a sophisticated take on the decade, awash with silk neckerchiefs and seductive open collars. London designer Katie Eary offered a more explosive look - her retro rodeo cowboys rocked tropical colours, fringed scarves and peace slogans aplenty. Topman Design took the trend to trippy heights with psychedelic daisies and wavy crochet sweater vests.
Key Shows: Katie Eary, Topman Design, Costume National, PARIS SHOW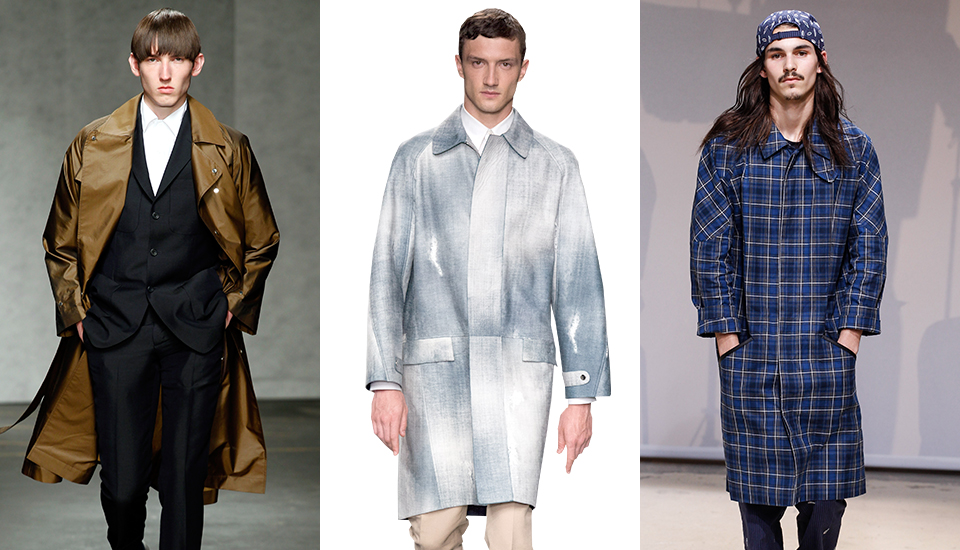 The Most Wanted Piece: The Slouchy Mac
Yes, the mac is back and it's best rocked oversized with a slouchy swagger. Think less buttoned-up detective and more downtown cool. SS15 looks to innovative textures for inspiration, with bronze silk-nylon macs at E. Tautz, clear patterned chiffon at Issey Miyake, and eye-tricking denim/leather at Fendi. Julien David made the mac a surfer's essential, pairing checked and colour blocked designs with backward baseball cats, board shorts and wave-riding ambition.
Key Shows: Fendi, E. Tautz, Issey Miyake, Julien David
New Season Now: The Right Stripes
The stripe is always right next season. At Gucci, Frida Giannini's 'decadent admirals' stormed the catwalk in Breton blazers and silk trousers. James Long offers a more haphazard interpretation, adorning washed denim with rainbow striped ribbons. Haider Ackermann has iridescent silk jackets with striped scarves, and J.W Anderson's pinstripe trousers come with androgynous halter tops. Work this trend now, with a Breton pocket square, or a striped cap.
Key Shows: J. W Anderson, James Long, Gucci, Haider Ackermann
The Street Style to Steal: Get your Skate on
Forget private drivers, a skateboard is the preferred way to travel between shows. In London, designers Xander Zhou and Bobbly Abley rocked skateboards on the catwalk, in black leather with slogan motifs - reminding us that this look is best completed with pumps and pulled up socks, top buttoned shirts and a teenage inertia. The most popular kicks on the street were Star Wars printed Vans- rock these and the fashion force will be with you.
Key Shows: Bobby Abley, Xander Zhou
The Brand that got Everyone Talking: Craig Green
A favourite on the MAN catwalk for the past three seasons, upcoming London designer Craig Green is already renowned for his 3D constructions, fluid silhouettes and mind bending prints. At his electrifying debut solo show, monochrome models sported body hugging cut out jersey and fluttering oriental robes in denim and shimmering fabrics. These warriors and priests crusaded against mediocre creativity, ensuring Green's purist creations are arelady the talk of SS15.
Key Shows: Craig Green
The Grooming Trend: The Nineties Mop Top
For this look, think of Blur and the best of the brit-pop era. Casely-Hayford and Carven channelled this nineties throwback trend perfectly, their models sporting flattened fringes with a slick of product. At Versace, the mop was more macho, with the boys attired in shiny crepe de chine suits, Havana inspired fish net vests and customary Versace bling. If those muscles at Versace are unfeasible, simply opt for a DIY bowl cut with blunt scissors and a shaky hand.
Key Shows: Casely Hayford, Versace, Neil Barrett, Carven