Watch and shop Faith Connexion's new 'On Tour' collection live, only on Farfetch
Mariana wears exclusive military jacket, lace body from Divincenzo, beaded jeans all by Faith Connexion. Red boots by Dorateymur from Browns.
The cult label – that takes the best of the street and gives it a luxe overhaul – is putting on its first ever runway show. And guess what? You can watch it exclusively on Farfetch, as we livestream the action as it happens.

What's more, the show includes 8 pieces that the brand has designed exclusively for us, and you can buy them right here from the day it takes place. I think that's what they call fast fashion!

More than just a label, Faith Connexion is in fact an ever-evolving collective of creatives from varying disciplines, that has united to produce its collections. 'A new way to share, to create, to connect people' is one description of this union, provided by one of its members. And it's not about drawing specific attention to any one member, with that person taking on star status, like at other fashion labels – it's about the group and the power within that. 'Together is better than separate,' another Faith Connexion member explains.

Whatever the thinking and the creative process involved, the result is hard to resist: a fresh-feeling blend of rock 'n' roll, skate and hip-hop cultures given a luxury finish, which represents the new (hot) Paris perfectly.
Lilly wears: exclusive sweater, blouse from Petra Teufel, silk cargo pants from Monti; Mariana wears cropped jacket from Tiziana Fausti, silk shorts from Vitkac, painted leather leggings all by Faith Connexion.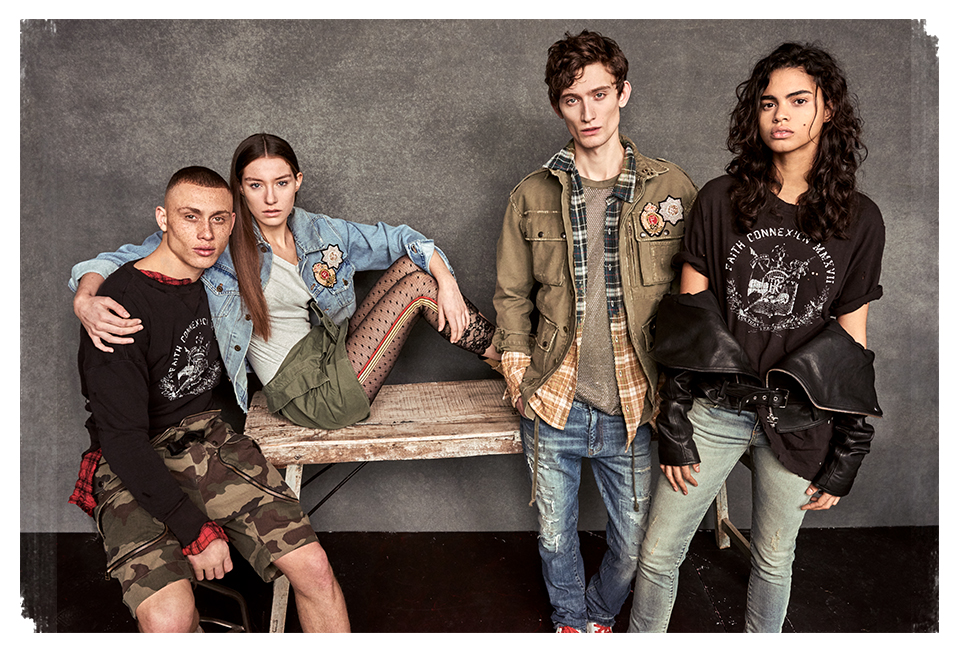 From left: Lily wears exclusive denim jacket, sweatshirt, khaki shirt skirt from Julian Fashion, leggings from Tessabit, boots by Michel Vivien from 58M; Mariana wears leather jacket from Tessabit, exclusive T-shirt, jeans all clothing by Faith Connexion.