Designers went wild with wordplay for AW14. From Jonny Johansson's cryptic communiques at Acne Studios to KTZ's rune-like scriptures, never has fashion's self-expression been so playfully explicit. But before you go emblazoning their slogans across your chest, be sure to brush up on the meanings.
by Alannah Sparks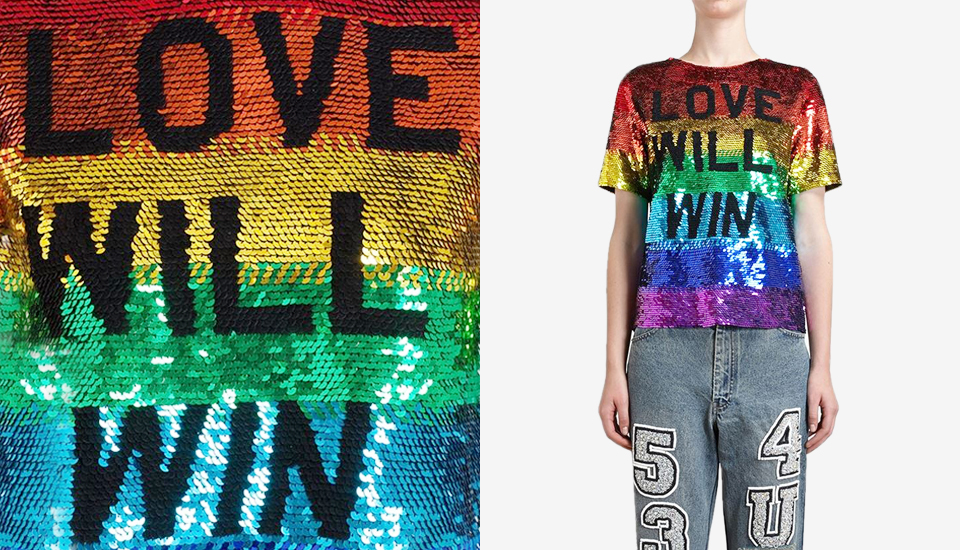 Ashish
'I think a lot of regressive stuff has happened with LGBT rights in the last couple of years. In February 2014, it became illegal once again to be gay in India! So many people in India came out and now they were "persona non grata" in their own country. These events were happening around the same time as fashion week and I wanted to make a statement about it, so I decided I would send out a rainbow t-shirt with the slogan "Love will win" to show my support.' - Ashish Gupta
Être Cécile
'"Bad Ass Paris" is about being bold, fun, and carefree, whereas "Presque Parisienne" shows our tongue–in–cheek side and our play on being French… but not quite!' Yasmin Sewell, être cécile
Markus Lupfer
'We use slogans as a way to inject humour and cement the mood. Our "have a nice day" t- shirt is colourful and friendly and what we call our compliment tee, it's a conversation starter and makes people smile, we usually have at least one each season like "you look really good today" and "Je t'aime".' - Markus Lupfer
MSGM
'It was all about love. There were words and phrases stolen from Sylvia Plath – everything was on a white background, like a piece of torn paper. The words TRUTH and BEAUTY were key. I was thinking, 'Be frank. Be honest. I AM WHAT I AM.' Fashion needs this.' – Massimo Giorgetti, MSGM
House of Holland
Entitled 'Riche Bish', Henry Holland's collection was inspired by 'debauched debutantes', whose catchphrases such as 'Giddy Up' and 'Oh Darling' are scrawled in schoolgirl curlicues across shirts, dresses and trousers.