The headline news in your AW15 wardrobe is your coat, so it's best to make it punchy. From the new ultra-long silhouette to the return of English heritage tweeds, here's the run-through of the coats worthy of your undivided attention this season.
By Alannah Sparks
The English Lady
Brush up on your manners this season, as AW15 heralds the return of the frightfully proper English heritage coat. Savile Row mainstays such as Prince of Wales check, nubby tweed and houndstooth look modern again, especially when worn with off-kilter accessories and your favourite granny handbag.
Coat by Missoni from Luisa World
,
Dress by Alexander McQueen from Stefania Mode
The Military Cape
The quickest way to make your existing wardrobe stand to attention this AW15? Top it off with a commanding military cape. Sacai's smart double line of brass buttons is key to ensuring you stay on the frontline of style.
Coat by Sacai Luck from Tessabit
,
Jumper by 1205 from Browns
,
Trousers by Alexander Wang from Elite
The Great White
Nothing makes you look expensive like winter whites - and not just because of the dry-cleaning bills. Shades like oyster, cream and purest snow white lift winter complexions and add freshness to your look. The hot AW15 update? Block it with separates in luxurious tones of oxblood and cyclamen pink.
Coat by Balmain from Splash by the Beach
,
Jumper by Filles a Papa from Bernard
,
Culottes by Barbara Cassasola from The Shop at Bluebird
The Hot Fuzz
Wild thing fur has been high on the fashion agenda for a few seasons now, so don't dismiss it as just a bit of fluff - it's here to stay. Marni's alpaca rainbow is the only thing you'll want to snuggle into when the chill sets in, and it will warm the cockles of your heart as much as it does your frozen limbs.
Coat by Marni from Splash by the Beach
,
Dress by MCQ Alexander McQueen from Societe Anonyme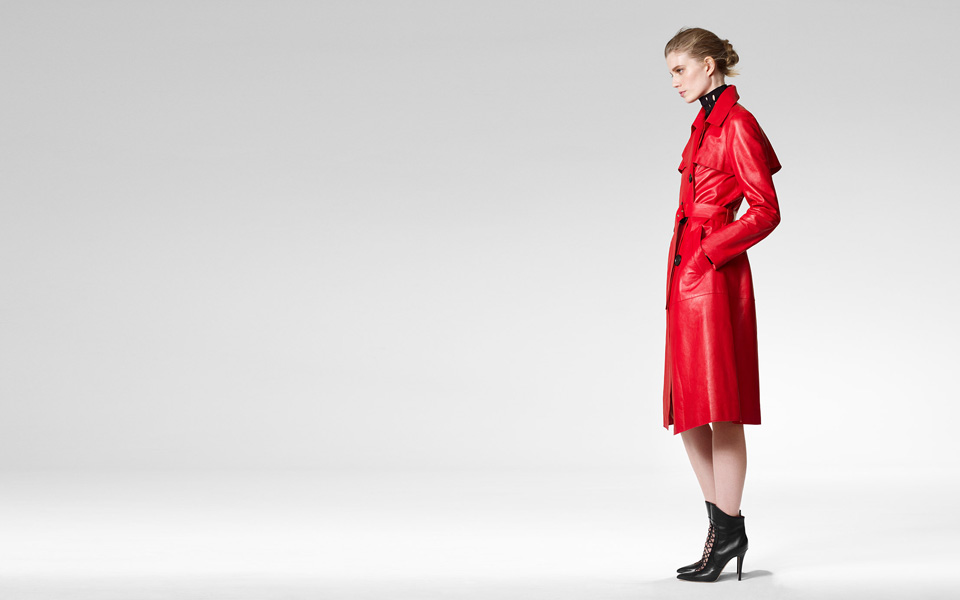 The Leather Trench
The Seventies favourite is back for 2015, fortified with a sex bomb colour palette – opt for Derek Lam's cherry red for maximum hot-blooded appeal, and wear skin-on-skin style until winter's bite brings out the goosebumps.
Coat by Derek Lam from Derek Lam
,
Jumper by Alexander Wang from Stefania Mode
,
Boots by Malone Soulliers from Elite
The Ankle Grazer
Cut a formidable silhouette as the nights begin to draw in, with Maison Margiela's floor-sweeping showstopper. The long coat requires three things: height, grace and attitude. It's a perfect nod to the season's Victorian trend – just add stomping lace-up boots and a little Jack-the-Ripper menace.
Coat by Maison Margiela from Bernardelli
,
Shirt by Philosophy Di Lorenzo Serafini from Spazio Pritelli
,
Boots by Saint Laurent from Donne Concept Store
Photography: Rory van Millingen, Styling: Lyson Marchessault, Hair by Kota Suizi, Makeup by Emma Williams, Fashion by Alannah Sparks, Fashion Assistant: Rachel Park
Share The Definitive Coats of the Season