The Wonders of Wool
Discover 4 designers debuting innovative Merino wool fabrications with The Woolmark Company
Words by Holly Swayne Photographs by Theresa Marx Styling by Julia Brenard
Wool is a fibre that once conjured up images of unshapely, bobbling winter jumpers - warm and functional, but with very little focus on fashion. But now, thanks to The Woolmark Company and its pioneering partnerships with the world's most inspiring design talent, this association couldn't be further from the truth.
The Woolmark Company is a not-for-profit enterprise dedicated to pushing boundaries with Australian Merino wool. Natural, biodegradable, renewable, long-lasting and unexpectedly versatile, it is a yarn with potential for both luxury and innovation, so it's no wonder designers are keen to use it on the runway.
Not merely reserved for jumpers and cardigans, AW17 saw the fibre reimagined in the most creative ways. From Thom Browne's reinvented suiting to Raf Simon's oversized logo sweaters, here we explore four designers innovating with Merino wool for a truly transformative approach.
Mario-Luca Carlucci and Peter Strateas are the Australian design duo championing knitted design with an edge
Strateas Carlucci
In the landscape of Australian menswear, STRATEAS CARLUCCI is leading the charge for directional tailoring using Merino wool. "We love the idea of creating items that you wouldn't expect to be made from wool," say the designers. The latest menswear collection is a case in point: oversized charcoal coats and neat double-breasted blazers are made from 100% wool, offering unparalleled warmth without sacrificing a slick silhouette. Styled with playful slogan sweats reading 'Tasty' and 'Fetish' in colour-shock hues, this is men's tailoring with a decidedly off-beat approach.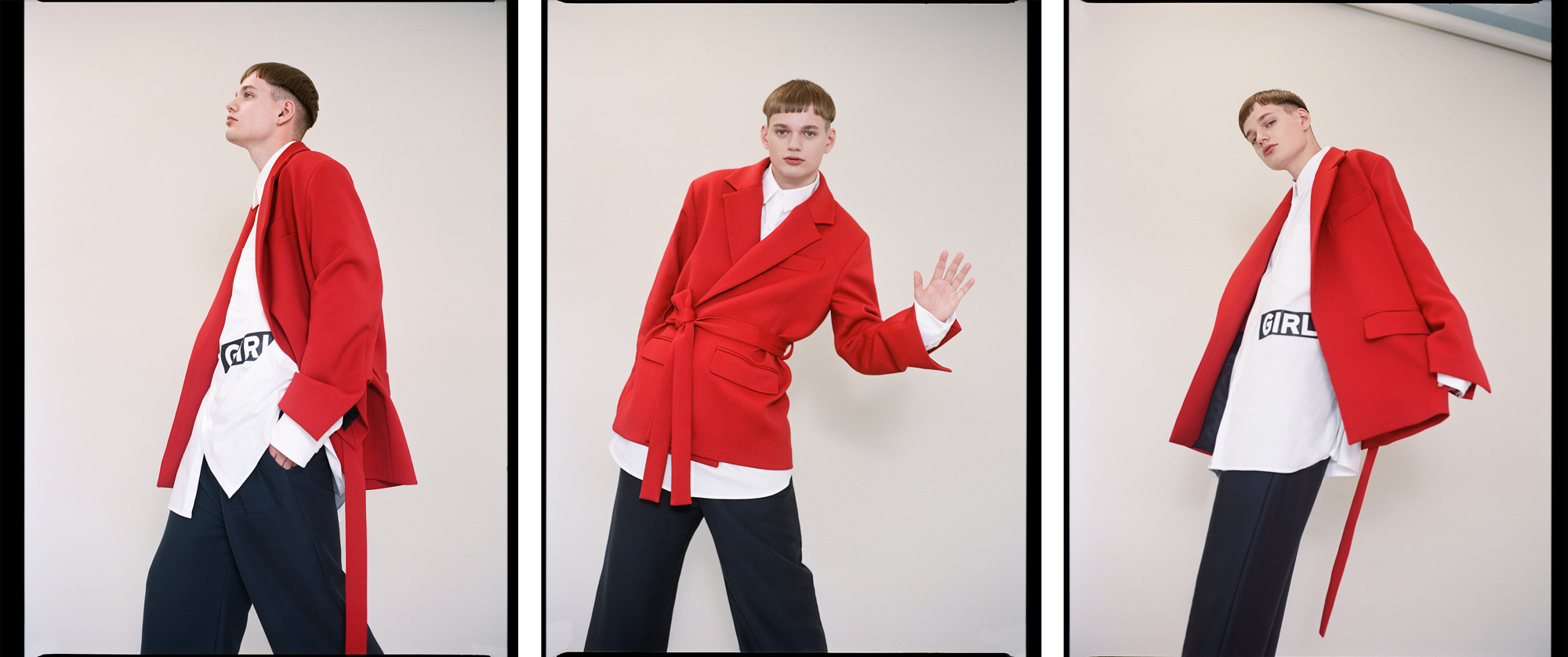 Melbourne designer Lukas Vincent merges influences from his native surf culture with traditional wool-crafting techniques
Ex Infinitas
Lukas Vincent is passionate about the benefits of wool for his dynamic, on-the-move customer. "They have a very active lifestyle, either at the beach or office, travelling between continents and living a dynamic life. Wool is the only fibre that is resilient enough to withstand such activity and still look flawless," he explains. "It's breathable, keeps you warm, is crease-free and has a beautiful, clean appearance at any time of the day. It's also one that will last decades, which is important for those investment pieces." This season's iterations include virgin-wool belted jackets in bright tomato red and matching long-hair Merino boots and slippers.
Raf Simons
For a designer as respected as Raf Simons to partner with The Woolmark Company only serves to reinforce its credibility further. His AW17 menswear collection marks a longstanding partnership with the initiative, using carefully sourced wool jersey to craft playfully subversive 'I heart N.Y.' knits. "I appreciate that The Woolmark Company encourages brands to come up with innovative ways to work with Merino wool," he said of the collaboration. "[It is] a material that I love and often use in my own collections. It feels very natural for me to create something special using the finest wool in the world."
Raf Simons's now-iconic New York knits are just the beginning of an exciting collaboration with The Woolmark Company
Quick to discover its natural versatility, Thom Browne understands the benefits of using Merino wool every season
Thom Browne
A designer renowned for reinventing classic pieces, Thom Browne's AW17 collection was no exception. Tweed suits and classic jumpers were given 21st century appeal with innovative cuts and bold colour blocking, all crafted from the finest wools and cashmere. "Wool has long been an essential element of my collection, and [partnering] with The Woolmark Company allows me to further explore the possibilities and boundless potential of the fibre," he explains. "We're using more wool in our collections each year and its natural benefits such as breathability and shape retention mean it is perfect for suiting."
Girl: Hannah @ Models1, Boy: Ramon @ Nevs