Fans of wrapping up rejoice – it's officially knitwear season. Jumpers, cardigans and sweaters are the cosy old friends of our winter wardrobes, but comfort needn't mean compromising on style. Meet AW15's most desirable knits…
By Hollie Moat

Snuggling up in cosy knits is a sign of the death of summer, but wrapping up for the cold weather and staying ahead of the fashion curve aren't mutually exclusive. We've rounded up this season's most important knitwear trends, all you need to work out is which one is the key to your own warm yet stylish winter…
The Front Row Favourite
The Trend: Stately asymmetric knits with a sculptural quality that quietly but commandingly attract attention.
The Designers: Stella McCartney is this trend's true architect but Marques'Almeida and Rick Owens also have a super selection.
The Inspiration: The industry's elite, many of whom could be found easing into winter by rocking up at Fashion Week in knitwear that was both cosy and cool.
Wear If: You're a fashion-forward type with a penchant for the practical and a distaste for anything too showy.
Wear With: A matching knitted skirt for those occasions when you want to wow, and with ankle boots or sneakers for in-crowd kudos.
Track Star Couture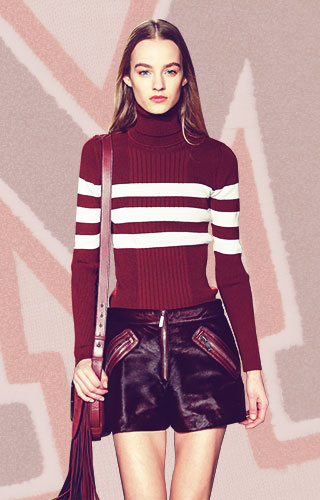 The Trend: Classic American high-school athletic wear that's made the jump from running track to runway, such as lettermen sweaters and cheerleader knits.
The Designers: Comme des Garçons have enough versions for a whole track team and Emilio Pucci and Maison Margiela are in on it too.
The Inspiration: The quintessential cheerleader – she's having quite a moment thanks to Amy Schumer's Trainwreck finale and OMI's song of the summer both paying homage.
Wear If: You don't think appreciating sophisticated cuts and luxury fabrics should mean ditching that sparky teen spirit.
Wear With: AW15's wear-with-everything A-line skirt and boots that mean business.
Sci-Fi Chic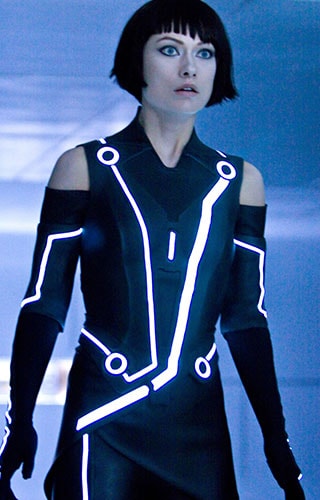 The Trend: Think unusually stylish off-duty superhero – sleek jumpers with bursts of colour and ultra-modern details.
The Designers: The ever-slick Iceberg, Vionnet and those artistic experimenters Peter Pilotto.
The Inspiration: Cult film Tron: Legacy, a reboot of the Eighties classic, complete with arresting neon visuals and a virtual reality flavour.
Wear If: You're looking to inject some fun, colour and pop-culture pizazz into winter via your wardrobe.
Wear With: Cigarette pants or a neat pencil skirt for elegance with an edge.
The Deepest V
The Trend: A rare juxtaposition of cosy and sexy – plunging necklines and exposed collarbones meets cuddly cashmere.
The Designers: Chloé is leading the charge to free the décolletage, backed up by Dion Lee and Proenza Schouler.
The Inspiration: That original sex kitten Brigitte Bardot – deep v-necks were as integral to her iconic look as bed hair and feline eyeliner flicks.
Wear If: You want to set pulses racing this winter but aren't entirely comfortable with catching hypothermia.
Wear With: Jeans and ballet flats during the day and a textured midi skirt at night.
Image credits: The Front Row Favourite: Wayne Tippetts/REX Shutterstock, Track Star Couture: © ClassicStock / Alamy Stock Photo, Sci-Fi Chic: © Photos 12 / Alamy Stock Photo, The Deepest V: © Keystone Pictures USA / Alamy Stock Photo