Nicolas Ghesquière: A Balenciaga Legacy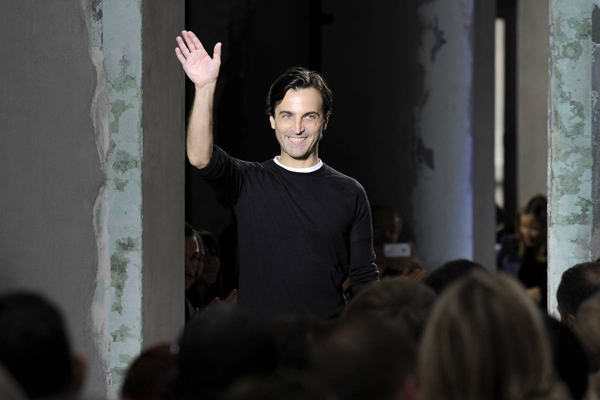 Nicolas Ghesquière
It's been almost four weeks now since French designer Nicolas Ghesquière dropped the bombshell that he was calling time on his fifteen-year, critically acclaimed stint at the helm of iconic label Balenciaga
Four weeks of talking about the fact that both the brand and Ghesquière claim it was a joint decision, but that fashion break-ups, like love affairs, are never truly mutual). And that this week the French press suggested Christopher Kane's appointment as the Frenchman's replacement is all but confirmed. But mostly, the style press and Ghesquière's customers and admirers just want to talk about how very much he will be missed. His Balenciaga shows were widely considered a high-light of fashion week, and his collections took you on a journey – strange and avant-garde on first runway viewing, but by the time they made it to shop floor your brain had had time to digest them and suddenly they were beautiful, wearable marvels with the ability to instantly update your wardrobe.
Balenciaga A/W 12
A one-time assistant to Jean Paul Gaultier, Ghesquière was appointed head of Balenciaga in 1997 at the tender age of 25. His youth and forward thinking revitalised the house started by Spanish designer Cristóbal Balenciaga in 1937. Balenciaga was a master of cut and proportion, with a skill for clean but pronounced silhouettes that won him the respect of even Chanel (who notoriously loathed other designers). It was a talent that Ghesquière also proved to possess.
Though we're not too bothered to see the back of his penchant for pin-thin physiques, Ghesquière no doubt leaves behind him a fashion legacy from his time at Balenciaga (no one knows what he plans to do next, though a move to newly reivived Schiaparelli has been mooted). Here are just five things we're going to remember fondly…
The First Collections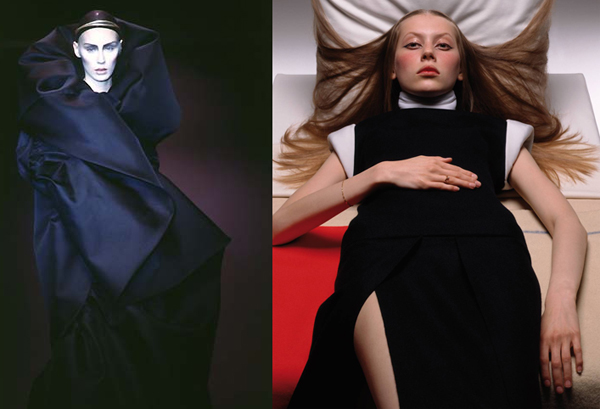 A look from Ghesquière's 1997 Balenciaga collection on the left, and an A/W 98 shot on the right
Fresh, directional and referential to the past without looking dated, Ghesquière's first collection for the label, back in 1997, was a revelation. With a talent that was still raw, and a darkness that stood out from all the turn-of-the-Millenium bling, pieces from the early years are true fashion treasures.
High-tech Fabrics
Balenciaga A/W 12
Ghesquière is renowned for his use of ultra-modern materials, as well as futuristic sounding techniques such as laser cutting and digital prints. His deft employment of polyurethane, plastic and metallic silks and the way he juxtaposed them with classic cuts and details (as in A/W 12) have helped shape his distinctive aesthetic.
The Architect Effect
Balenciaga's S/S 12 campaign
Cristóbal Balenciaga was famed for his architectural mastery with garment-making. Ghesquière took this legacy and re-worked it for the 21st century, putting a contemporary spin on structured jackets, fitted waists and billowing sleeves and skirts, as seen for S/S 12.
The IT Bags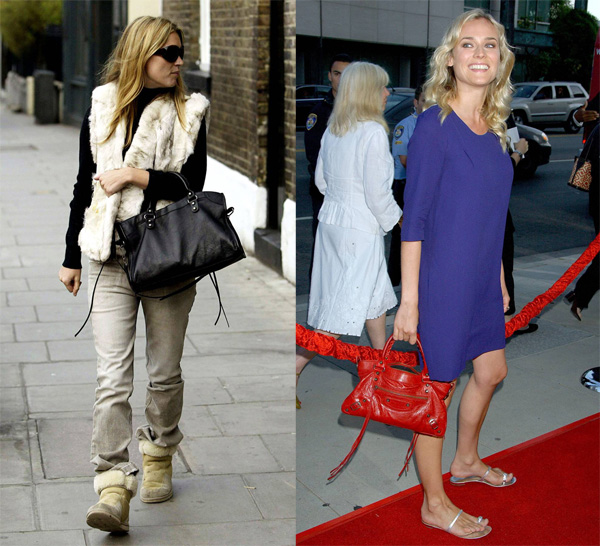 Kate Moss and Diane Kruger sporting Balenciaga bags
Perhaps the biggest hit of all during Ghesquière's time at the French house are his handbags, the slender handled, variously sized totes beloved of the A-list. Kate Moss kick-started it all, first photographed with one in December 2003. Since then Diane Kruger, Catherine Deneuve, Gisele, Sarah Jessica Parker, Mary-Kate Olsen and Salma Hayek have all caught the bug.
The Last Hurrah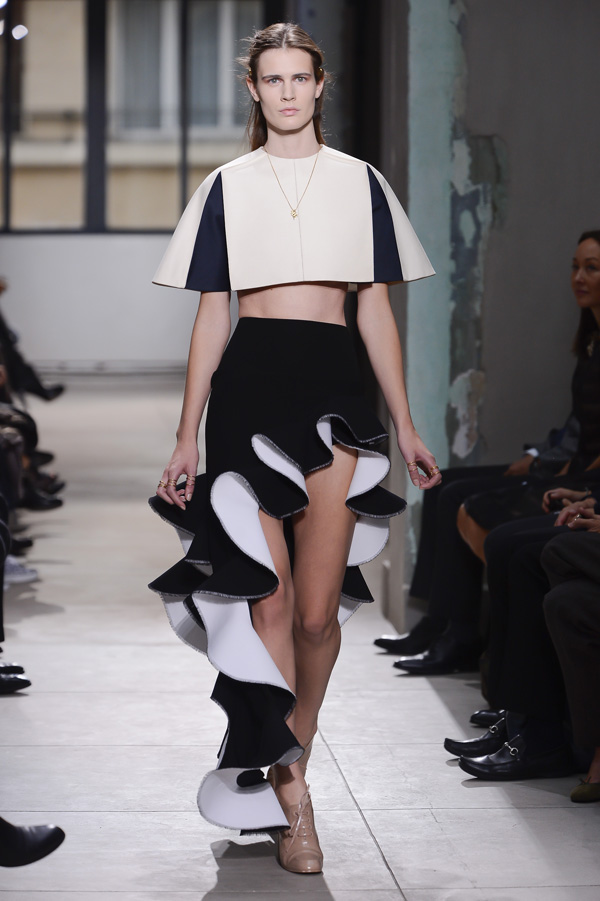 Balenciaga S/S 13
Ghesquière's last collection for Balenciaga, S/S 13, includes all of his trademark features - the quirky details, the luxurious cuts, the playful sentiment and directional take on femininity. Definitely one to invest in, not only because it's his final bow, but also because it's fabulous.
by Hollie Moat