True Romance
Why Philosophy is a label of love for designer Lorenzo Serafini
Fashion has always been driven by desire, but it seems especially fitting that Lorenzo Serafini, the designer reinvigorating the romantic DNA of Italian brand Philosophy, should speak of his profession with the ardour of a man in love.

Words by Hollie Moat, Photography by Boo George, Styling by Nik Piras
SHOP NOW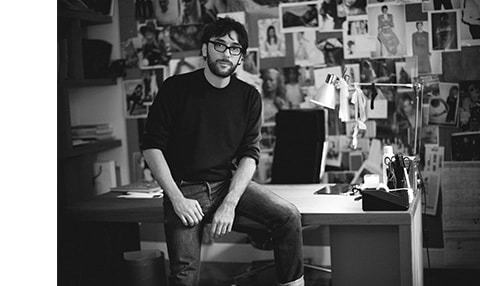 So Lorenzo tell us about Philosophy this season…
Lorenzo Serafini: 'The collection's title is Castaway Romance and it kind of reminiscences the [1980] movie The Blue Lagoon. I first saw it when I was about 10, and it's stuck in my mind ever since. From that came the spirit of lace and Victoriana dresses, reworked in an eighties vibe – but absolutely for a today girl. It was completely "undone", really easy, a little bit castaway with the hair and the beautiful skin of the girls, a little bit tanned – island life.'
You really like the film's star, Brooke Shields, don't you?
'I love her! Love, love, love her. She's been my icon since my very first [Philosophy] show – in Pretty Baby and Endless Love. She was the ultimate beauty, but she never had that aura of being unreachable, she could have been your best friend. Her mixture of devastating beauty and this kind of easy attitude is, for me, the best.'
Sleeveless jacket, dress (coming soon), and boots (coming soon), all from Philosophy di Lorenzo Serafini.
More than Brooke alone, you've referenced the eighties in several of your collections, is there a reason you keep returning to that decade?
'I just went there with my instinct – there's no reason to ask yourself too many questions in fashion I think, if you do you're starting on the wrong foot. So I decided to follow my instinct and went back to this era that I feel fits with Philosophy. And actually, if you look at the eighties, the lacy dresses were influenced by that Victorian epoch, and the fifties were another great influence on [the decade]. They reworked them… like Pretty in Pink, with Molly Ringwald. Another favourite of mine!'
The word 'romantic' has almost become synonymous with Philosophy di Lorenzo Serafini, do you agree with that description?
'I love that word, it's been the first word in my mind since I got this job. I'm a romantic person, that's for sure, but I always like to break up this romanticism with an edge, something very contrasting – in this [season's] case we use a lot of white leather, which is quite edgy as a material. And I think that nowadays romantic has lost the idea of weakness, today you can be strong showing your soft side. So you don't have to lose any of your power if you want to show your feelings. The Women's March that we saw in Washington… it's women power now, women proud to be women, and it's fantastic!'
Dress and belt (coming soon), both from Philosophy di Lorenzo Serafini.
You've spent the last couple of seasons establishing your Philosophy aesthetic – what's the secret to standing out in such a crowded market?
'I think that with so many options in the fashion world, the only thing you can follow is your own path – once you find it don't deviate, keep going on that path. I think that's what makes you grow and makes you recognisable in such a jungle!'
One thing that is consistently said about your collections is that the pieces are very wearable, was this intentional or a happy accident?
'Yes, intentional, definitely. I didn't want anything posh, I didn't want anything too "done". I think if you wear something, your identity [should] come still first. This is what's important to me, that you can wear it with the most natural attitude, the most confident attitude, because if you're not confident [in what you're wearing] every look you put on is going to fail.'
Do you have muses or specific women in mind when you design?
'No, because I dream that many different women can wear my fashion. When I have an icon [for a collection] it's different, because it's an ideal, something that keeps you dreaming – fashion is still made of dreams. But when you go down to reality, I really want that any woman can wear my pieces. And it is the most flattering compliment when I see a girl, [or] a woman wearing a piece of mine – that's the best for me.'
'Starting a collection is a very organic process, it's a flow. I don't force myself to find ideas, once they come in my mind I put them aside, and I'm gonna use it when the time is right.'
Jacket (coming soon), Trousers and belt (coming soon) all from Philosophy di Lorenzo Serafini.
How has increasingly constant demand for more and more collections per season affected you as a designer?
'I think it's killing the desire of fashion a little bit. It is a bit damaging I think for the fashion system - maybe we should be able to wait a little more. You don't even have time to enjoy what you really want to wear. [But] I'm happy to believe a woman will wait for the dress. We all need more time to really enjoy things – it can't be everything so wasteful, creating so much pollution. And it's such an enjoyable part of the job, research, once you start taking time out of that process I am sure it's gonna die, there is going to be a lack of passion. It's like when you force a horse to run faster, faster, faster, and it falls down dead. Sometimes fashion forces you into this kind of race. Starting a collection – I have to say – is a very organic process, it's a flow. I don't force myself to find ideas, once they come in my mind I put them aside, and I'm gonna use it when the time is right.'
And how do you ensure that each collection is appealing to both southern and northern hemispheres, with both being in different seasons?
'You have to be very clever when you start thinking about a collection and [its] merchandising. You have to fill it with different weight of fabrics, and actually we are quite lucky in this way – because we tend to do very feminine things we use light fabrics and they work from 9 till night, from Milano to Tokyo! So when you use light lace and chiffon, you match it with something heavier that you can take off later, it's a matter of styling.'
And finally, Philosophy di Lorenzo Serafini is a very modern Italian brand – what does it mean to you to be an Italian designer?
'Italian designers have always had their specific way – as have the French or the Americans, and they feel 100% Italian. I can't deny my roots, and I'm very proud of them, very proud we are able to keep a certain glamour even in the most simple things.'