Swizz Beatz is the man who knows everyone. The music producer, art collector, fashion fan, and international man-about-town has found friends in just about every corner of the cultural spectrum (and the world), whether it's nurturing the newest music talent in the studio, attending the Met Ball or hitting up Art Basel with wife Alicia Keys. So when Farfetch set out to find a group of stylish and influential gentlemen to inspire our new menswear focus we knew just who to turn to for help. And Swizz was, of course, only too happy to offer up his advice. Presenting The Best Dressed…
By Hollie Moat
The List
Usher
Who: Singing, dancing global superstar who has sold 23 million records in the US alone and counts Yeah and Burn among his monster hits.

Why: A long-term style pin-up, the world has watched Usher evolve from blinged-out R&B ingénue to savvy sartorial chameleon, able to flip from avant-garde monochrome to laid-back double denim with enviable ease. His Calvin Klein tux at last year's Golden Globes set the Internet on fire.

He says: 'I'm a flamboyant kind of guy, a cooler version of Liberace. I'm a connoisseur of the timepiece, I've got forty watches, the very first one I got was a baby Cartier Santos from (producer) Jermaine Dupri. It was after I had a No. 1 with You Make Me Wanna in 1997 and I've built up the collection ever since. I do know what I like, I have Adidas Stan Smiths in at least 20 different colours - I've learnt that you are who you are, and if you don't believe it, no one will.'
Ben Gorham
Who: Professional athlete turned renowned perfumer, and the man behind Byredo, whose scented candles adorn the chicest homes around the globe.

Why: Described as a 'renaissance dude' by GQ, the artfully tattooed Gorham previously collaborated with Acne Jeans and the iconic creative agency M/M Paris and has since branched out into designing leather bags and accessories, sold in his recently opened New York store, the current toast of the industry.

He says: 'I have all my suits tailor-made from Bauer & Co. in Stockholm (they've been around for more than 150 years and are the only real bespoke tailor left in Scandinavia) but I love the easiness of a pair of jeans and a T-shirt. When I heard Acne were going to discontinue my favourite jeans (Generic boy jeans) I bought three identical pairs and for years called their office requesting them to bring them back.'
Shirt by STRATEAS.CARLUCCI from ØDD
,
Jeans by Saint Laurent from Barrow
,
Boots by Salvatore Ferragamo from Vitkac
Carmelo Anthony
Who: Brooklyn born basketball player, pride of the New York Knicks and eight-time All Star.

Why: Anthony can rock a suit as well as a sweatband, his style flipping effortlessly between his sport with distinctive on-court accessories and the eye-catching tailoring he favours on the red carpet. At New York Fashion Week he co-hosted a party with the always-sharp Ermenegildo Zegna, but Anthony is also a sartorial gambler, never scared to take a fashion risk.

He says: 'I'd describe my look as effortless and easy, I like to be comfortable first and foremost but looking cool and stylish is always key, I'm not super trendy. The most memorable outfit I've ever worn is the Rag & Bone tuxedo with tails and a top hat that I wore to the Met Ball last year, but my wardrobe staples are hats, watches, sweatpants, tees, crew neck sweatshirts and sweaters. My advice is to keep it simple and stay true to yourself and your style, let others inspire you, not influence you.'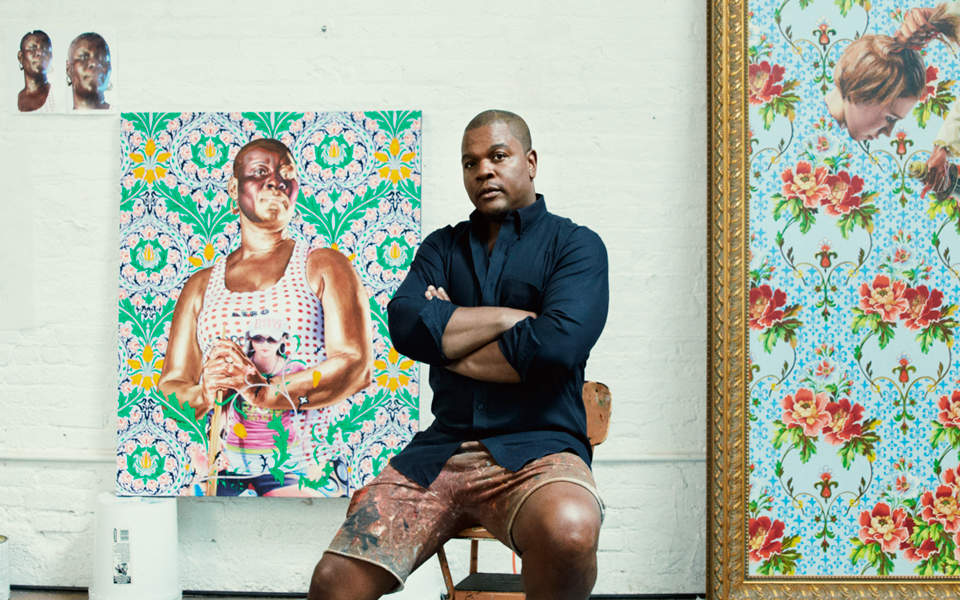 Kehinde Wiley
Who: LA-born portrait artist likened to Gainsborough and Titian and cited by the New York Times as one of the most celebrated painters of his generation.

Why: Wiley may have previously worked with Givenchy on a creative project, but his attire, with its vivid and expressive approach to colour, is more like his own artwork than any fashion brand. One journalist recalls seeing a photograph of him in a magazine and being struck by his innate style and his jazzy suit.

He says: 'I like to buy fabrics on my travels and take them to my Beijing tailor, who makes them up to my specifications. I like details like waistcoats with pockets for watches and personalised labels. I find colour is something that can change your mood quite easily. Looking at the sociological studies that have been done globally, you can see we all have colours that we are drawn to. Colour can be at once trivial but also a very important part of convincing, one way or another.'
Shirt by Dsquared2 from Papini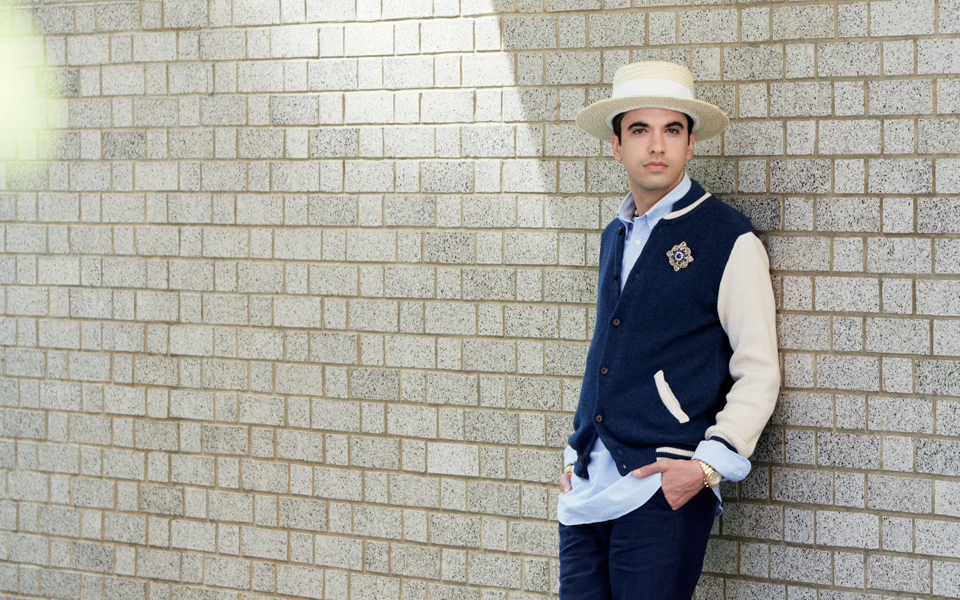 DJ Cassidy
Who: DJ and native New Yorker - the man behind the decks at Obama's 50th birthday party and Beyoncé and Jay-Z's wedding.

Why: Discovered by professional magpie Sean 'Diddy' Combs, Cassidy is as well known for his signature boater hats, bow-ties and cricket sweaters as he is for his 24 carat gold mike and dance-floor storming sets. Having told Vanity Fair he's always dressed out of the ordinary, he's now the subject of 'Get the look' features all over the web.

He says: 'The boater hat is my signature, my number one wardrobe staple, and favourite piece of clothing - I simply cannot perform (or go anywhere) without one. I wear straw boaters in warm weather and fur boaters in cold. I sport a boater with any kind of attire from a sweat suit to a tuxedo. It is my true mark of distinction, no matter the setting. Getting dressed should be fun. Clothes should be comfortable. Style should be natural. Fashion is subjective.'
Cardigan by Monsieur Lacenaire from Carson Street Clothiers
,
Shirt by AMI Alexandre Mattiussi from Carson Street Clothiers
,
Shorts by Ovadia & Sons from Carson Street Clothiers
Nicolas Ouchenir
Who: Calligrapher to fashion's elite – he is the man behind everyone's invitations, from Miu Miu to Marc Jacobs to Givenchy.

Why: As quite literally the right hand of scores of the world's most prestigious fashion houses, Ouchenir is sartorially as well connected as it gets, gushed over by the likes of Interview magazine and Garance Doré. His chic, understatedly elegant attire makes it easy to see why.

He says: 'As I'm an artist I have my own uniform of a dark t-shirt or simple shirt with indigo jeans and black loafers. Day-to-day I go from drawing at my desk to meeting with fashion brands, so I have to be appropriately dressed and presentable. It's important to create a signature look and show people who you are and what you're about. Although I dress very classically, I'll wear a more statement piece from Ami, Marni or Prada and even a vintage jacket. It's about the subtle mix of clothes for men that makes things interesting'.
Blazer by Boglioli. New Season- Coming Soon, Shirt by AMI Alexandre Mattiussi. New Season- Coming Soon, Trousers by Dolce & Gabbana. New Season- Coming Soon
Photography: Bill Gentle. Nicolas Ouchenir by Jonathan Frantini. Fashion: Tony Cook