Channelling Anna Karenina
Keira Knightley as Anna Karenina
When earlier this Summer the usually conservative American label Banana Republic announced their capsule collection based around the forthcoming film adaptation of Anna Karenina, it seemed to hint that the fashion industry intended to adopt the classic Russian tragedy as one of its big trends for A/W 12.
Now, just a couple of days ahead of its cinematic debut (and with that other big style film The Great Gatsby now shifted to a Summer 2013 release) that appears all but confirmed – the literary heroine is one of this season's most visible muses. From the sweeping fur coats that made their way regally down the catwalk, to the opulent baroque of a glamorous aristocracy from long ago – not to mention the surge in popularity of ornamental hats, the runways of A/W 12 have so far proved a veritable feast for anyone looking to indulge in a bit of nostalgic Eastern European drama and pomp.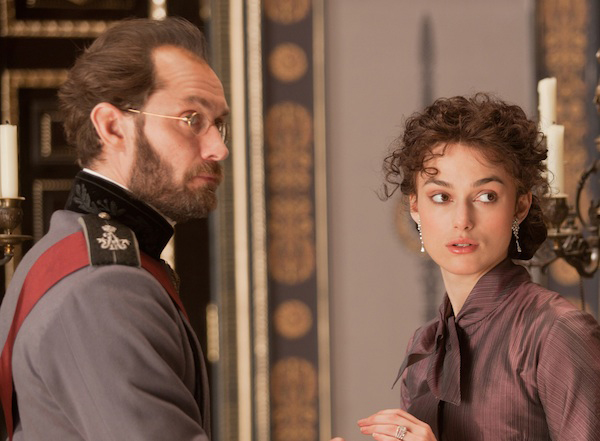 Jude Law and Keira Knightley in Anna Karenina
Penned by Leo Tolstoy in the nineteenth century, Anna Karenina was published in parts between 1873 and 1877 in the Russian Messenger. It is the foreboding tale of Anna, an unsatisfied noblewoman stuck in a loveless marriage with a government official who she begins to find repulsive. She falls in love and runs away with a handsome but pretentious young count and as their affair descends into madness and unhappiness she looks desperately for a way out.
Keira Knightley takes on the ill-fated titular character in the new film, which is handy as she's always been rather adept at rocking floor-sweeping skirts and delicate period dresses, whilst Aaron Taylor-Johnson plays her young lover and Jude Law has his handsomeness dialled down to minimum as her difficult husband.
Dolce & Gabbana A/W 12 and Lanvin A/W 12
What is reflected both in the movie, and on the runway, is that the clothes, like the story, are sumptuous, dramatic, and bleakly beautiful. The same could be said of Dolce & Gabbana's whole collection this season, where black lace and gilt edging was used liberally to perfectly set off that rich but tortured look, whilst Anna's love of layering pearls and jewels onto bare skin was re-interpreted for 2012 at Lanvin. Marc Jacobs went wild for the most eye-catching of headwear and striking fur coats took centre stage everywhere from Blumarine to Fendi.
Keira Knightley as Anna Karenina
But the thing to remember when taking on some of Anna's enviable style is the difference between life and fiction. Going for the full furs and pearls and pussy-bow blouses is to risk looking old-fashioned, or worse, like you're in costume. Fortunately, this season's delicate dresses come with curve-hugging silhouettes, the furs with splashes of colour and the accessories with an exaggerated approach to detail that lends them an air of humour and fun. So sartorially, it's Anna Karenina with all of the elegance and none of the tragedy!
by Hollie Moat