Fashion History Lesson: Diana Vreeland
Diana Vreeland
Fashion is a world perennially bursting at the seams with colourful characters, from Andre Leon Talley to Anna Piaggi to Marc Jacobs. To be remembered as the one person who outshone everyone else in terms of personality and pizazz is no mean feat – and probably the main reason why those in the know talk about the late Vogue editor Diana Vreeland in such admiring tones.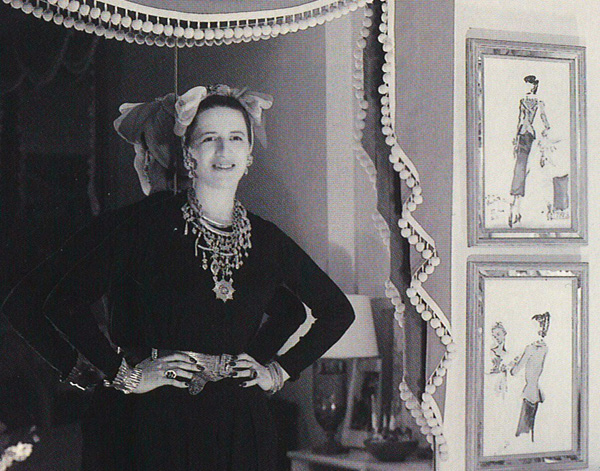 A young Diana Vreeland
An industry legend, Vreeland was dubbed the 'High Priestess of fashion' by her contemporaries and played up to this status with copious grandiose statements, 'The bikini is the most important thing since the atomic bomb' and 'Pink is the navy blue of India' among the most memorable.
But she had the credentials to back up this sense of theatricality, said the photographer Richard Avedon 'She was and remains the only genius fashion editor'. Vreeland was born on 29th July 1903, one-hundred-and-nine years and one day ago, in New York, though she altered this location to Paris or St. Petersburg depending on her mood.
Vreeland in her office, and sporting one of her signature gaudy pieces
The daughter of wealthy socialite parents, she married a handsome banker and had some kids before kick-starting her career at the grand old age of thirty-four, when her sense of style impressed Harper's Bazaar editor Carmel Snow so much she gave her a column, in which Vreeland encouraged readers to indulge in fun and frivolous activities such as washing one's baby's hair in Champagne ('like the French').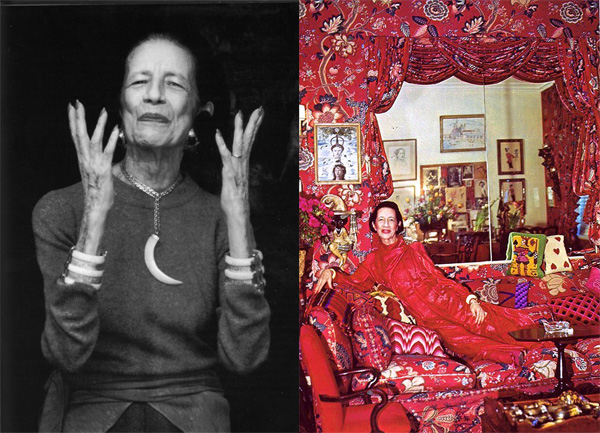 Vreeland modelling her signature costume jewellery, and in her 'garden in Hell' apartment
It's huge success led to her becoming more involved with the magazine, and during her time there she 'discovered' Lauren Bacall, began advising the newly crowned First Lady, Jackie Kennedy on her wardrobe, inspired a charismatic fashion editor character in the hit film Funny Face, and had her apartment decorated to look like a 'garden in Hell'.
In 1962 Vreeland was made Editor-in-Chief of Vogue US, and became legendary for her hugely creative but jaw-droppingly expensive shoots – one with Norman Parkinson was shot in Tahiti using an Arab stallion and 200lbs of gold and silver Dynel. During her time at the Condé Nast bible she also patronised David Bailey, and made Edie Sedgewick into a style icon.
Diana Vreeland in the Sixties with Andy Warhol
After being unceremoniously dumped by Vogue, the fashion world rallied around her, and she was installed in a post as consultant of the Costume Institute at New York's Metropolitan Museum of Art, where a life-size portrait of her is on display, and where she paved the way for the gallery's iconic fashion exhibits, which have included Alexander McQueen's Savage Beauty and Prada and Schiaparelli, Imagined Conversations most recently.
Vreeland in the environment of her beloved Costume Institute
Like all icons Vreeland had a look all her own - but in contrast to today's glossy, chic fashion editors, she embraced excess, never coming across a gaudy pattern or swatch of leopard print she didn't like. Not classically beautiful, she instead made herself exotic, with dramatic make-up and lacquered, talon-like red nails at all times. She would wear all-black, imposing ensembles and drape herself in layers of unusual costume jewellery, to ensure she was the most striking looking person in the room.
Vreeland loved to exaggerate, by her own admission she liked to add fictitious layers of glamour to life to make if more interesting. But when she said 'I know what they're going to wear before they wear it, what they're going to eat before they eat it. I know where they're going before it's even there!' it was true. And she's one of the only people in history who could.
by Hollie Moat