Vera Wang
As she showcases her AW17 collection in film (above), we talk to the inimitable Vera Wang about her new collection, her Légion d'Honneur award and her enduring love affair with Paris, the city where it all began…
Words by Ashleigh Gribbon
You've been presented with France's Légion d'Honneur – congratulations! How does it feel to be awarded with such a prestigious accolade?
Vera Wang: 'Whenever anyone is awarded any honour – our own CFDA, or something as international and insanely French as the Légion d'Honneur – it's a very big deal, I think. I've had a very personal history with Paris [and] it was very intuitive; it started with tourism and fascination, went on through figure skating, and then my friend Patrick Péra introduced me to the fashion editor of French Vogue at the time, Nathalie Delannoy. I fell in love with fashion on that trip. If one were to say that my career was formulated, educated, nourished and inspired by France that would be true.'


You hold a deep reverence for French style. What do you think makes it so special?
'It's my education and my love of France and their culture – that love of detail, that obsession with fashion. You know, that classic style is celebrated all over the world. French women were brought up with a history of style. When I was 6 my father bought me a pair of Mary Jane shoes in Paris. I remember looking down at my feet and just being gleeful, I was so mesmerised by them. I remember it very clearly because that trip [drew me] to Paris more than I could have ever imagined.'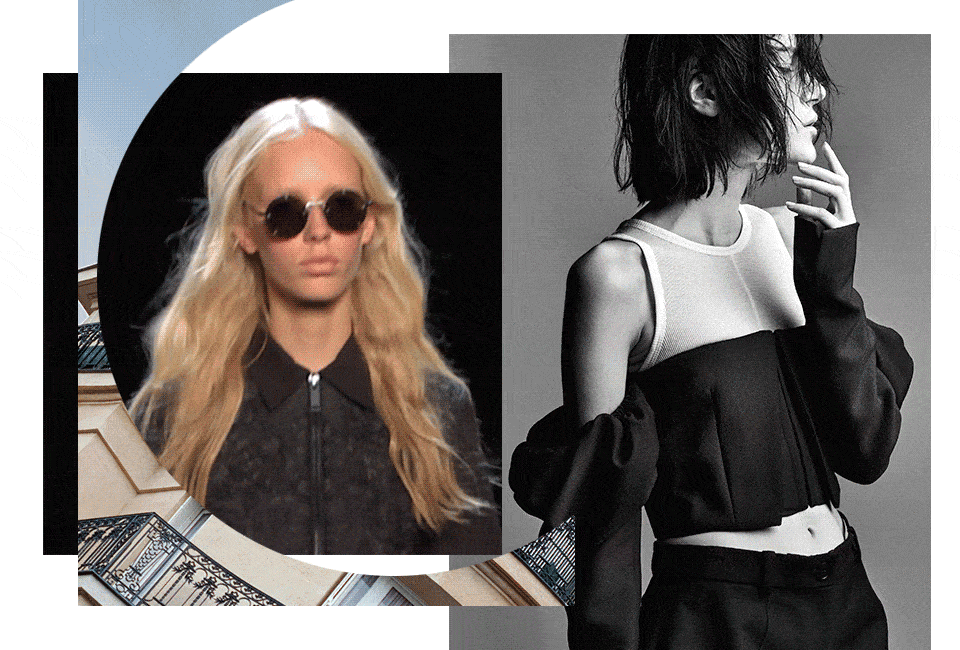 You decided to showcase your AW17 collection as a film in Paris on the same day you received the Légion d'Honneur, why did you choose to present the collection like this as opposed to a traditional runway show?
'I've always had a dream to show in Paris, and in a way this award has given me permission to do so. I'm creating a collection that will pay homage – not literally because I'm not a very literal designer – but there will be a thread that connects to France, an ode to Paris and to my past, to my love of fashion and to my respect for the French and their history.'


Your SS17 collection has an authoritative, utilitarian feel – what were the inspirations behind it?
'To me, it felt sexy. I'm always looking for a new way, a younger, more modern way to find seduction. To me, that androgynous, boy-girl thing has always been that, particularly in ready-to-wear. I want to achieve a seductive attitude in a modern, non-conformist way. I was trying to blur all those lines between day and evening dress. I think if a girl feels powerful and strong [while feeling] seductive that's kind of a unique thing. It's very authentic to me, I've always loved that tension.'
What are your hero pieces from the SS17 ready-to-wear collection?
'Honestly, everything I would wear. Peplums, for me, are the new belt. We gave T-shirts an attitude, we threw pearls on them, so it's that street-meets-couture fusion that really comes across. I also love the versions of the jacket that were really off the shoulder; they had a modern-Victorian feel without being too fussy.'


You've had a hugely successful career to date, spanning from senior fashion editor at Vogue in the US to heading up your own line. What do you think has been your key to your success?
'For me, the secret to my life – maybe more than success – has been this passion for all things fashion and visual. I think it's that curiosity and the ability to really stay in the now. You really have to study the past though, because unless you know what came before, you don't know whether you're really being unique. You have to find your voice and stay true to yourself. It's always going to be about how you mix cultures, lifestyles, proportions, irony, details. That's the real challenge – how to extract what you need out of all these stimuli and create your own vision of a woman. We have clothes that go from $25, to wedding dresses that are $28,000. So to span that takes incredible thought, and it's very hard. You need to keep the upper end to define who you are as a house [but] it's a hard line to walk because the mass market isn't ready for an off-the-shoulder jacket. But maybe what they could get is a blazer with a beautiful sleeve detail. I will say that I've had to become a businesswoman and that's something I never counted on. You almost can't separate art and commerce away from each other anymore.'
You're famed for your evening wear – do you have any tips for getting red-carpet ready?
'When I look at past pictures of the Oscars, some of the stars I've dressed look modern for today; I'm amazed by it. [And] I think authenticity is important – that's when women are their most beautiful and confident. Authenticity breeds confidence and safety and comfort, I mean if it's uncomfortable can you ever really feel beautiful? I can't see it. Female designers bring an intimacy and knowledge of clothing that reflects themselves.'