When your every waking move is a carefully curated, instagrammable tableau, it's of utmost importance to pay extra attention to the finishing touches. Luckily, this season's dramatic jewellery is the perfect accompaniment for each mise-en-scène. From glittering diamonds to super-future Perspex, this is how to complete the picture.
By Alannah Sparks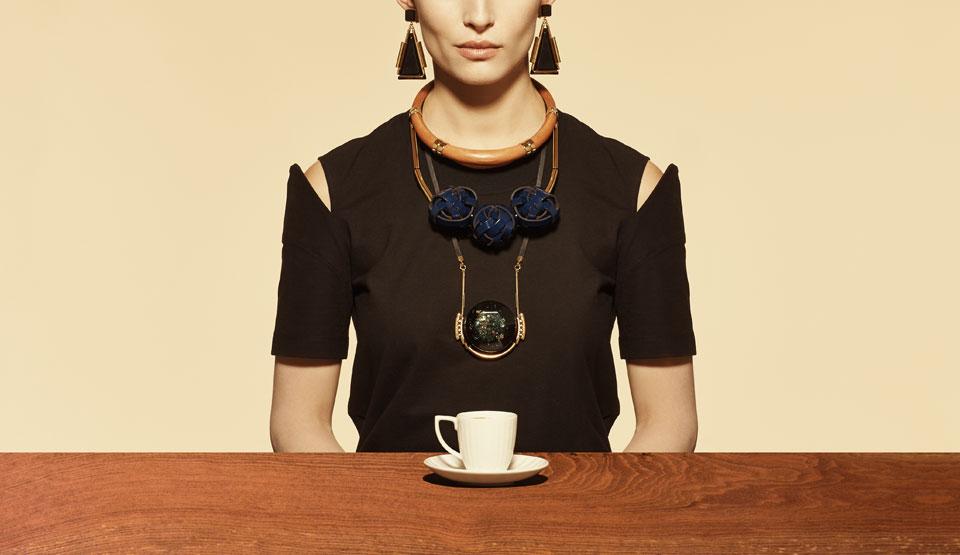 Coffee with a side of art-rocks
What better to go with your single-origin hand-roasted artisan espresso than Marni's haute-artisan adornments? Layer them up with gusto for a richer, more complex flavour.
Maison Margiela Split Shoulder T-shirt, from Stefania Mode Marni Triangle Pendant Earrings, from Splash by the Beach Marni Braided Detail Necklace, from Vitkac c Marni Circle Pendant Necklace, from Vitkac Aurelie Bidermann, 'Connie Island' Collier Necklace, from SMETS
Sushi with a side of perspex
A power lunch deserves a power-pop of colour, and Stella McCartney's Perspex rocks pack enough punch for any lunchtime pow-wow. Add Sarah Angold's ravey plastic for extra bite.
Red Valentino Waffle Weave Short Sleeve Jacket, from Changing Room Stella McCartney 'Mixed Stones' Necklace, from Stefania Mode Stella McCartney 'Mixed Stones Plexi' Bangle, from Stefania Mode Marni Contrasting Panel Cuff, from Vitkac Sarah Angold Studio 'Orra' Bracelet, from H. Lorenzo Sarah Angold Studio 'Sirata' Bracelet, from Labour of Love