In Command
Milan Vukmirovic, heading up Ports 1961 with military precision
Words by Hollie Moat, Photography by Hasse Nielsen, Styling by Tony Cook
Fashion loves the new, the novel, almost as much as it loves big names. By that definition Ports 1961, a half-century old Milan-based label whose name alludes to no single celebrity designer, should be flying under the radar. Instead, it's sitting pretty at the very forefront of menswear – one of Italy's hottest labels.

Milan Vukmirovic can take due credit for this: his collections for the Canada-founded label exude that ultra-contemporary, sporty aesthetic, while channelling a wealth of historical and cultural influences. An Instagram and street-style star in his own right, to describe Milan simply as Ports 1961's menswear designer would not be quite accurate. Additionally he is the brand's face, its muse, a fashion polymath who also co-founded legendary Parisian boutique Colette, a photographer who has shot campaigns for Trussardi and Armani, the former editor-in-chief of cult magazine L'Officiel Hommes, and he currently helms Fashion For Men.

Naturally, between all this and his latest Ports 1961 collection – an artfully modern take on romance, infused with genuine sentiment – when we meet Milan, we had a lot to talk about.
Let's begin with SS17, because clearly there's a story there…
Milan Vukmirovic: 'When I [started] this collection it was the first part of 2016, and I think it had been a very difficult year, what with everything that happened in Paris, the terrorist attacks… I'm French so it touched me very deeply. I always thought that even if people say it's only clothes, that it's a business – [and] this was also my way to really make a statement and say, I don't like hate and I really hate terrorism. All of this fear was going on and the only thing that really brings people together is love, in everything we do, so I really wanted to put it in the show. It's a very important word and for me it's very important in the world we live in right now.'
There's also a strong military influence within the collection, right?

'Yes, I'm always very influenced by military pieces – there is so much in their history, and it can depend on which century, which country, and things like that. [This season,] I wanted to have these masculine military pieces, but in a softer, more romantic way, and using flowers or ruffles helped me to do that. It's not aggressive – because I really was not in that kind of mood.'
Did that feel like a departure for you, since you're known for your sportswear?
'I love sportswear – but I'm not a person who likes to do only one theme, one idea in the show. Because that's not the way I dress. Fashion for me is like music, so it depends on your mood: when you wake up in the morning, maybe today you want to be more serious, or more classic, or more sporty. Even if the show was this romantic, military kind of look, we also included the collaboration we did with Everlast, because I will never give up sportswear. I do a lot of sport every day, I dress in sportswear and so for me the mix is actually much more interesting, and it's much more real to the way we dress.'
You're known for being your own muse – is this collection also a reflection of your own style?
'Always. It's very funny, because sometimes I do interviews and people will ask me: "What kind of guy would you want to dress this season?" And it's a very strange question for me, because even from the beginning when I was contacted by Ports 1961 and I was not really into the idea of coming back to Europe for work, they convinced me because they said: "Listen, we've seen all your work, but we also saw on street style the way you dress and what we would like is for the Ports man to become you, the way you like menswear, the way you see fashion and the way you want to wear things." I liked that very much because it's a very sincere way to approach my work. Some designers will create a look that they will never wear themselves because it's for someone else or another image or another muse. But for me, I have to say, I still love fashion and clothes so much that when I create, when I do the collection, it's still things that I would like to wear. I think about my style because that's what I like and that's the starting point of every collection.'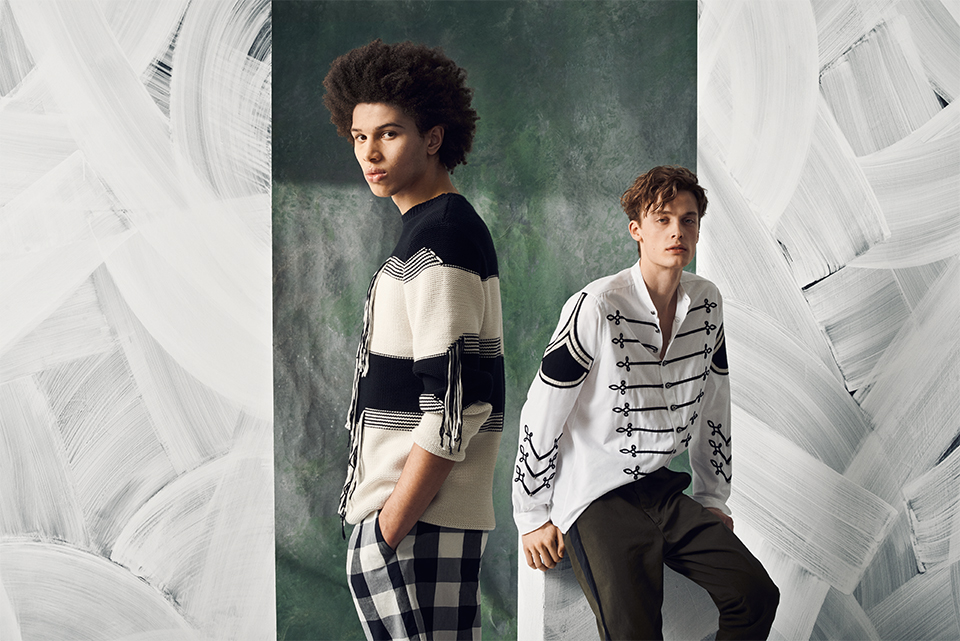 Do you think Ports 1961 is able to evolve so consistently, to stay at the forefront of fashion because your own style is constantly evolving?
'Yes, you are completely right – because fashion is going quicker even than ever before, and people get bored very fast. And I think the principle of fashion is changing, and now with social media, and [the fact there are] so many collections, I would say the new trend is no rules. I think for many years fashion was made with rules, like you need to have 1 look, 1 kind of hair, 1 kind of model, 1 ideal. But that is not appropriate for the world now, and I think maybe if I'm still here it's because I keep evolving and changing. I rarely look at the past, or at least I say always be ready, because what you hate today maybe you're going to love tomorrow. That's really the motto of fashion, it's to surprise yourself and not be closed off. Never say, "Oh, it was better before" or "I will never love this", because no, it's not true.'
Add that to the demand for more and more collections, and the emergence of new global markets – what does that mean for you?

'Honestly I've never seen – in the 25 years I've been working in fashion – such a confusing time. Everything gets mixed up, it's like eveningwear/sportswear, man/woman, feminine/masculine, winter/summer. The seasons are changing. Everything is changing, and it's very interesting, because there are less barriers and it's almost like everything is possible. It is challenging as a creative person, that's for sure, because now if in winter I do too many warm clothes, what happens with the Asian market? It's not so cold there, but of course New York and Europe is cold. It's like in every collection now you almost need to have a mix of light pieces and warm pieces, it's really not like it used to be before. I think the system as it worked before, with 6 months for 1 collection, will end – probably the future will be every month or every 2 months to have a little capsule collection.
'The principle of fashion is changing. I would say the new trend is no rules… I think maybe if I'm still here it's because I keep evolving and changing. I rarely look at the past.'
You're a bit of renaissance man when it comes to fashion…
'Very young I realised that I wanted to be a designer, and that's really my main job. But things happen, I met Colette [Roussaux] and she proposed we do a store together, then I met the [Les Editions] Jalou people and they said: "We'd like you to relaunch L'Officiel Hommes." And then when I was doing that magazine, people started saying to me: "We love the pictures that you do for your holiday, why don't you try photography?" So I always say: "Don't be afraid to have different experiences – especially in fashion, because the more you know different sides, the more you will also understand." All these experiences help me to understand the business and how it's evolving, so I think this idea of renaissance is just that I never really stop and look back, I always move on and am always trying to get into the new things.'
'Never buy something that will overpower you. What makes you confident, is when what you wear seems effortless… it's how you move in it, and how you mix and match your clothes.'
Rio wears knitted vest (coming soon), trousers, both by Ports 1961.
So having been a retailer and a buyer really helps you as a designer?
'Yes, completely, [and] on top of that I have my own magazine. So I know that to make a magazine interesting you need some strong pieces that maybe very few people are going to buy. Of course, the retailer buys more… (you see it everywhere now) a lot of denim, a lot of sweatshirts, because that's where people make money. But at the same time, the moment you decide to do a fashion show you have to do something that is stronger, for the image of your brand, and if this image is strong it will help all the rest of your business, even the more commercial parts.'
What's your style advice for our readers?
'Never buy something that will overpower you. In fashion we went through a period where it was very important to wear a logo, to have a specific brand. But I think you should avoid total looks completely, and avoid a lot of logos, anything that is going to detract from your personality. What I think is the most sexy, and what makes you confident, is when what you wear seems effortless – and really you have to also think about your body, and how you feel comfortable in your clothes because you can be very sexy in a suit that's tailor-made, or [equally] in jogging pants, it's how you move in it, and how you mix and match your clothes. But I would definitely say don't just buy labels because it's a trendy label. Think about what will make you look good.'