Balenciaga, Gucci, Simone Rocha: who rocks jewellery now?
There's 1 strand that ties all SS18's fashion jewellery together: it's not for the faint-hearted. Gobstopper pearls, eye-watering crystals, giant florals and sculptural body-huggers all make an appearance. Go forth, and be fabulous.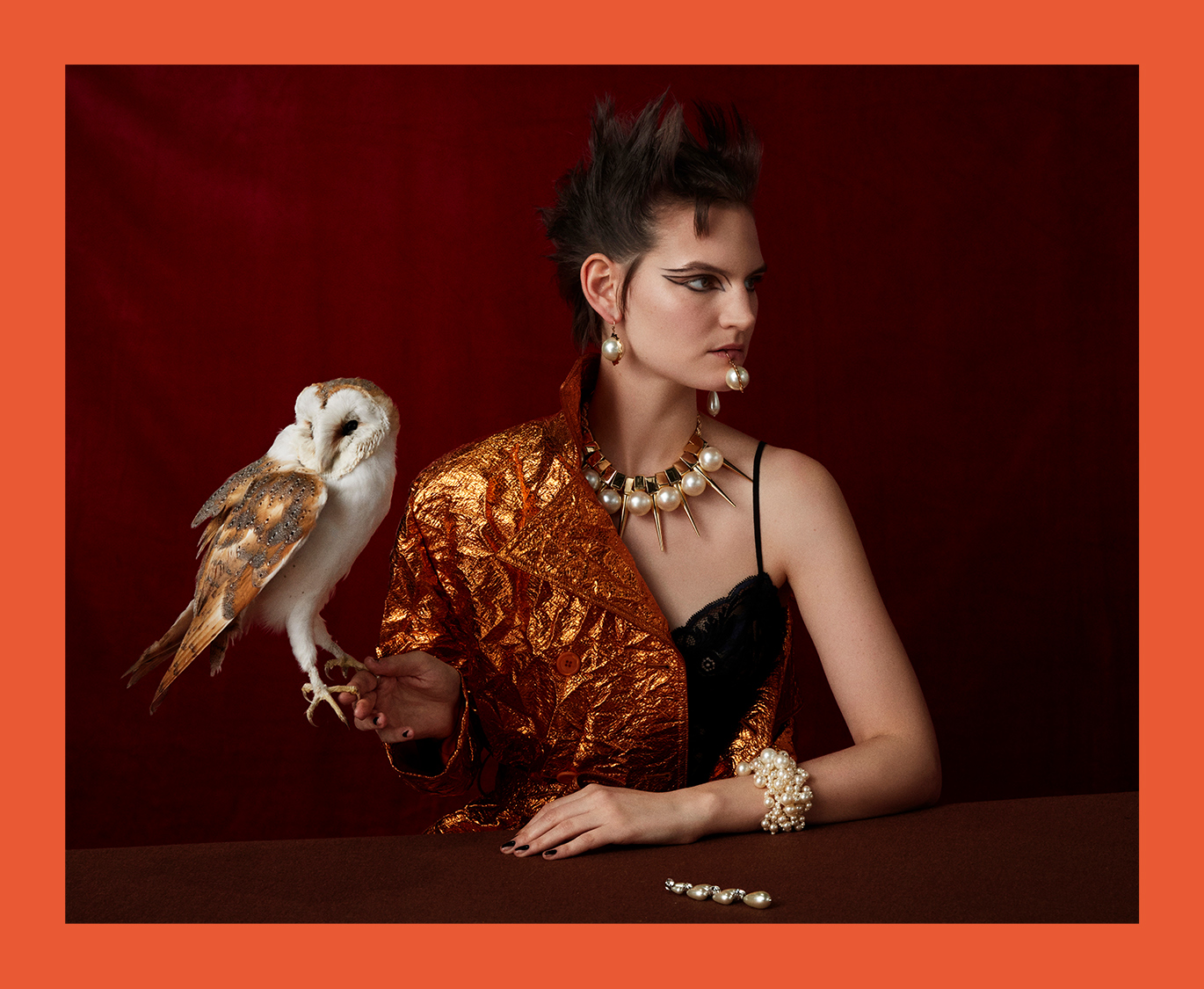 Pearly queens
Think pearls, and you think Coco Chanel. Dial up the kitsch and you're approaching the right mood. Simone Rocha and Balmain are this season's proponents – they'll also get you ready for an onslaught of iridescence come AW18.
Above: Hirschy wears jacket by Sies Marjan from Lattuada; charm and pearl-drop earrings from Smart and Dolci Trame, both by Simone Rocha; necklace by Balmain from Elite; and bracelet by Chanel from Rewind Vintage.
Super sculptural
True to form, Maison Margiela leads the charge in the season's artistic endeavours. Look out for graphic, Matisse-like faces.
Acrylicious
Tough on nails, revolutionary on ears. Acrylic now comes with logos and clip-on fastenings for that eighties effect (Demna, we salute you).
Above: Hirschy wears jacket by Nina Ricci; ear cuffs, from top: green from Browns and blue, both by Balenciaga; and ring by Kasun London.
Crystal clear
In its early days, crystal jewellery was designed to fool. These days, we like it almost ludicrously large and all piled on at once.
Above: Hirschy wears blouse by MSGM from Cose; earrings by Gucci from Browns; necklace by Sharouk from Elite; ring by Alexander McQueen from Vitkac; and bag by Prada.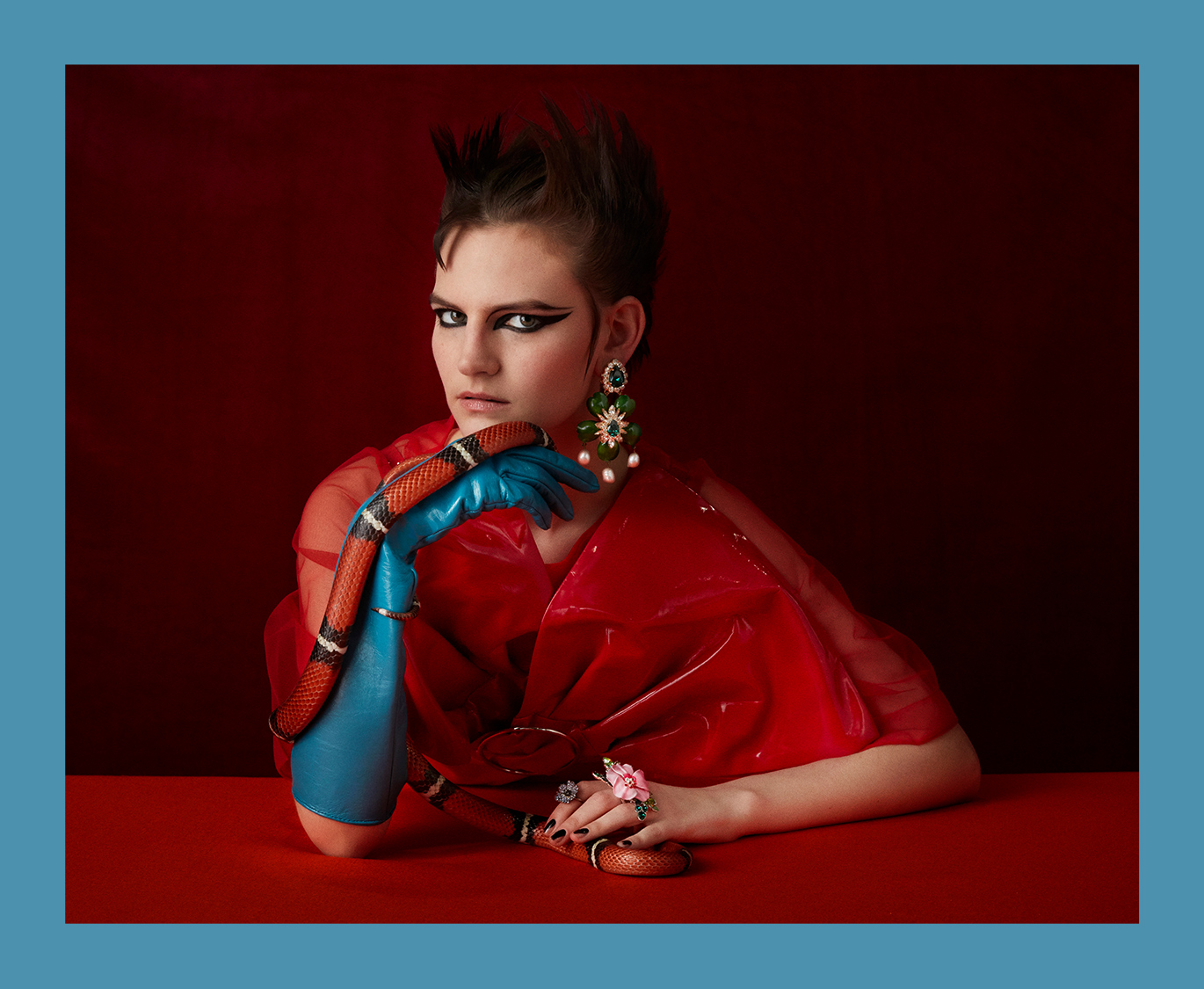 Full petal racket
There's a lot of noise around saturated flowers right now. In jewellery form the look is hyper-realistic: the more Granny, the better.
Hirschy wears earrings by Shourouk (sold out), dress by Molly Goddard (sold out) from Penelope, blouse by Seen from Entrance, glove by Manokhi from Entance, ring by Sonia Rykiel from Changing room, ring by Dsquared2.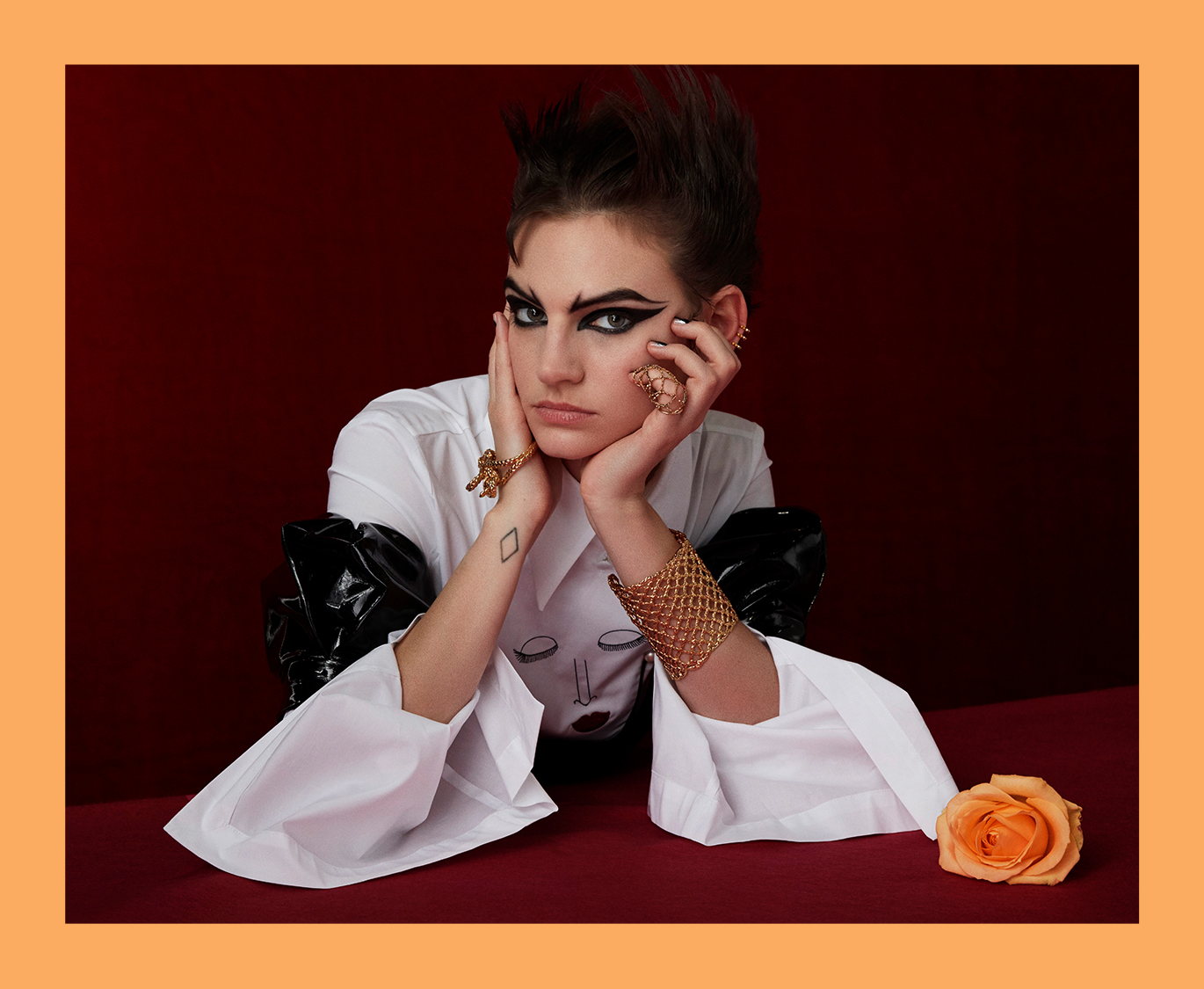 On the grid
Mesh = modern-day armour. See Prada and Paco Rabanne for more exciting developments in geometry.
Above: Hirschy wears dress by Cristina Savulescu from Entrance; shirt (worn underneath) by Vivetta from Changing Room; cuff bracelet and ring both by Maison Margiela from Ranoul 4; and ring by Gaelle Khouri (sold out).
Shop The Shoot