Make The Cut
Actress Rose Leslie on life after Game of Thrones and her latest role
You could forgive Rose Leslie for finding it rather trying to have the same 5 words incessantly yelled at her in the street – even if those 5 words are 'You know nothing, Jon Snow' and came as a result of her stellar 3-year stint on Game of Thrones. But it turns out that Rose is so very nice as to insist she actually likes it. 'It's a lovely thing to be on the receiving end of,' she says. 'I feel so lucky, a, to have [a catchphrase] and, b, to be a part of a show that is universally adored.'
Words by Hollie Moat, Photography by Tom Craig, Styling by Poppy Kain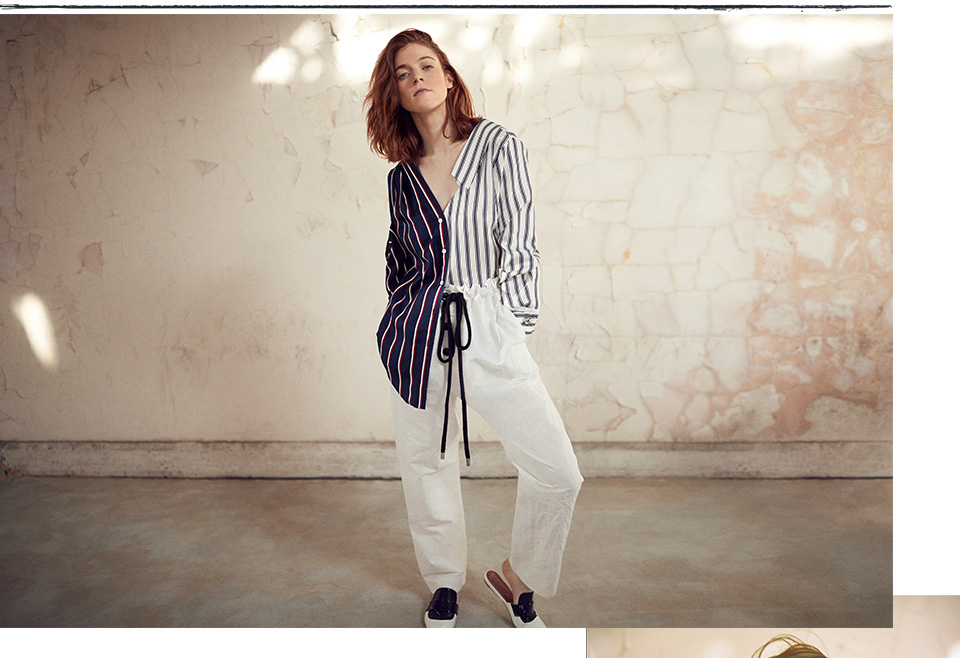 Everyone seems to have gone wild for The Good Fight. Do you think that's down in part to how very current it feels, exploring subjects like fake news and even opening the pilot with Diane Lockhart watching the Trump inauguration?
Rose Leslie: 'Yes, and I'm certainly incredibly proud of the fact that [showrunners] Robert and Michelle King decided to be bold enough to take on the administration in terms of highlighting what they feel needs to be brought to people's attention. In the pilot, I think that with nothing being said, you can project whatever your own feelings are to Donald Trump being sworn in. Diane Lockhart's face is so beautifully blank – you were able to project whatever your own thoughts were onto her face and be like, "Oh my god, this must be what Diane is feeling." I thought that was very clever.'
The series is set around a law firm and your character Maia has just passed the Bar – did you have to do your legal homework before filming?
'I kind of took artistic license with Maia being relatively new and green when it came to the world of court. I realised that I could lean a little bit on her in this being her first time as well as my own, so it was okay that I was a bit jittery and nervous about taking somebody down in the witness stand. And I did learn the meaning of some words, words I had an idea of – litigation, arbitration and affidavit, but I had to really cement their meaning into my head for when I was speaking them, because to not know what the hell you're talking about would be shambolic on my behalf.'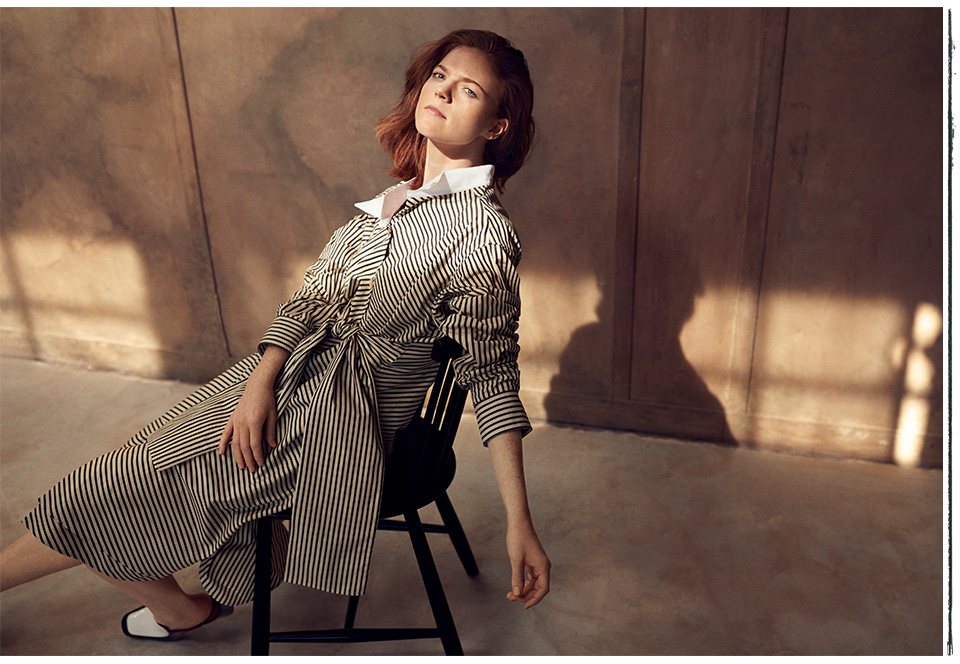 You were working with the glorious Christine Baranski and Bernadette Peters – amazing role models for an actress. Did they live up to expectations?
'They both have the most incredible spirit of generosity [and] hold themselves with such grace. They are so friendly, so welcoming and professional, to the point where they nail it in a couple of takes. You end up being like, "Holy shit, I need to up my game because I'm opposite Bernadette Peters." And she was such a darling of a lady, and I feel very much the same with Christine, who from the off was incredibly warm towards me. I realised that this was something new that we were embarking on together, it's an ensemble piece and she wanted me to feel very welcome on this set she knows very well.'
You seem to play very strong characters. Maia is a fighter, Ygritte was a warrior of a woman, even Gwen in Downton Abbey refused to settle for the status quo…
'I would say certainly the characters that appeal to me most are the women who are thrown out of their comfort zone. Seeing them grapple with their new situation – realising they have backbone and being able to fight against the tide – you could term that as strong. Maia finds herself in this extraordinary, atrocious scenario of no longer trusting her father, with whom she's had an incredibly close relationship with, realises that he has scammed hundreds of millions out of innocent people, ruining their lives and also jeopardising her career, which she has fought very hard for. I rated her for being someone who wasn't self-involved with her own desires, and decided to take the approach of showing that she is as good as her peers, despite having an incredible advantage in life with her parents being billionaires.'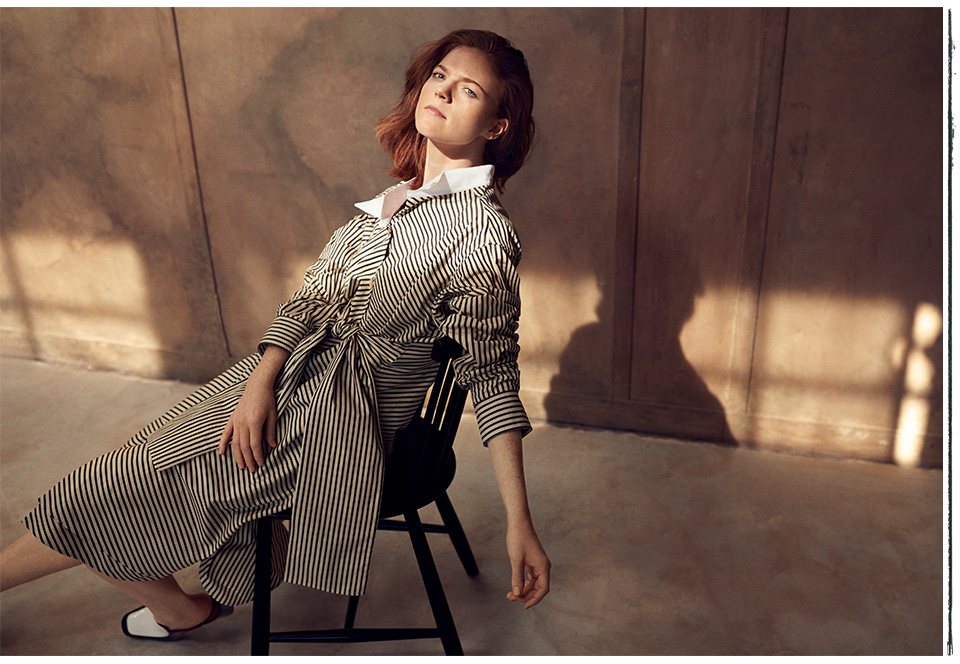 'The characters that appeal to me most are the women who are thrown out of their comfort zone. Seeing them grapple with their new situation – realising they have backbone to fight against the tide.'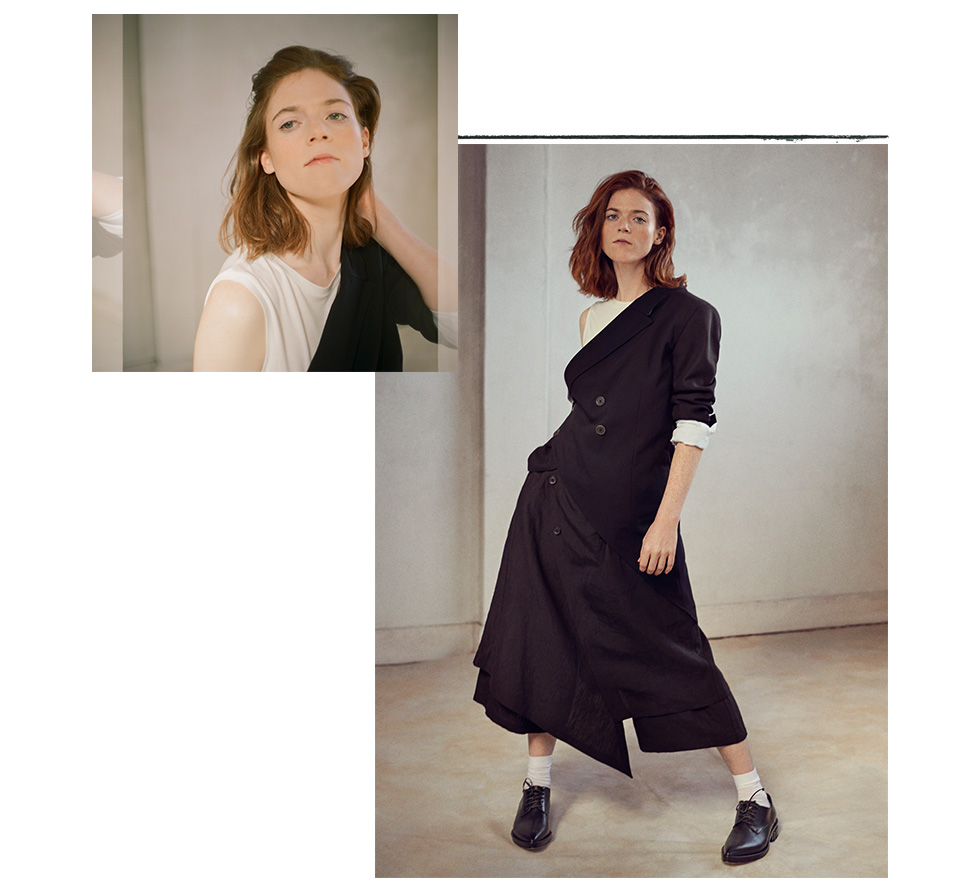 The Good Wife was renowned for its style, does The Good Fight follow suit?
'I would be doing Dan Lawson an incredible disservice if I didn't praise the ground he works on – he was the costume designer on The Good Wife and he is also with us, so tonally, expressively you're getting a similar vibe. I feel like it's fashion-forward in showing the power that one can convey with and through fashion, in complementing what one feels in the scene with what you're going to wear, and as a result showing the viewer how the character feels in that particular episode – let's say there aren't any bold colours or patterns, because actually Maia's feeling very dour and her low self-esteem is coming through in the clothes and the drab colours that she's gone for. Dan is a master at pulling that off.'
Of all your roles, whose costumes do you like best?
'I'm not good in heels! So I would have to say give me the flat boots in [Ygritte's] battlegear. I loved wearing armour and having a bow and arrow, and just being a bit dirty and grubby. But my god I've been given some beautiful pieces in The Good Fight: I had the most beautiful Alexander McQueen two-piece and a Helmut Lang overcoat – the woman [Maia] has the most incredible wardrobe! So I've had a lot of fun in being able to wear something I would never have the chance to in real life, because as an actor you're not really gonna be wearing office attire day-to-day.'
Which character has a style closest to your own?
''If you had asked me when I was 22, I would most certainly have said Ygritte, whereby she was more of a tomboy-esque person. But I'd like to think I'm slowly ebbing towards Maia, and the maturity that she has, now I'm a 30-year-old woman…'
You looked amazing in Christian Dior at the Olivier Awards – do you enjoy getting dressed up for the red carpet or is it a chore?
'It's fun, it's so fun! To be fair you'd be hard-pushed to look someone in the eye and say you don't enjoy someone faffing around you for 2 hours and making you feel lovely. And I really enjoy getting ready because it's a team effort – it takes a whole village!'
And finally, which of today's looks would you most like to take home?
'I had the most beautiful striped Loewe dress on, with the collar off-kilter and a wraparound on the waist and billowed shoulders. I do think it's a little more interesting when things are offbeat; I'm drawn to that in what I wear, and also it applies to different aspects of my life. You're not following the obvious form – I rather enjoy that.'