Unlikely Style Icon: Enid from Ghost World
Moviestore Collection/ Rex Features
Ghost World's witty portrayal of American teenage angst propelled it to instant cult status when it was released in 2001. Cynical, world-hating and monotone, best friends Enid (Thora Birch) and Rebecca (Scarlett Johansson) epitomised adolescent dissatisfaction as they struggled to find their place in a faceless US city.
The film follows the high-school losers and social cynics as they waste their summer hanging out in the ironically named Happy Feelings diner, browsing garage sales and playing practical jokes on their geeky neighbour, Seymour. 'This is so bad it's almost good,' Rebecca says at one point, in a comment that is equally apt when it comes to her friend's fashion.
Moviestore Collection/ Rex Features
All plaid skirts, oversized T-shirts and thick-framed cat-eye glasses, Enid is the epitome of this summer's grunge fascination. Think IRO and 3.1 Phillip Lim checked shirts, Alaïa pleated skirts and sleek Linda Farrow shades. Enid's chunky military boots look straight off the Ann Demeulemeester catwalk, and her slogan-print T-shirts could be Acne Spring/Summer 2013.
'Didn't they tell you? Punk rock is over,' yells a floppy-haired teenager as Enid rocks dyed green hair, a cropped leather jacket and Underground Creepers. Far from 'over', punk has proved it's here to stay this season. Luxurious interpretations were seen with Carven's cropped fishnet polo shirts, Tom Binns's embellished safety-pin earrings, and Jean Paul Gaultier's flame-haired models.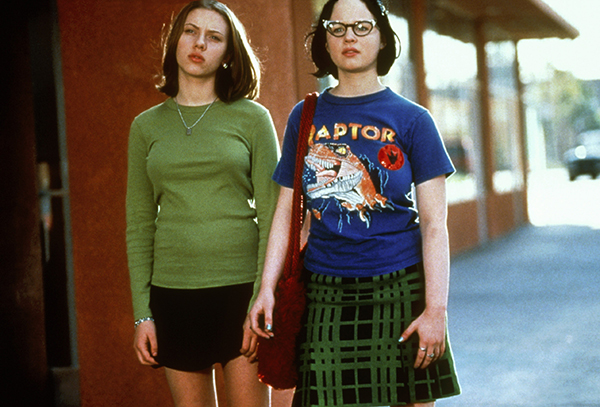 Moviestore Collection/ Rex Features
But Enid's style doesn't end at punk. Decked out in a floral-print dressing gown, Enid channels orient-inspired chic at Thakoon, and wearing a Peter Pan-collared shirt and necktie, her accessory choices are straight off the Saint Laurent catwalk.
So, whether you choose to rock the full punk look, a seductive oriental print or a subtly chic necktie, this summer the (ghost) world is your oyster.