Designers went wild with wordplay for AW14. From Jonny Johansson's cryptic communiques at Acne Studios to KTZ's rune-like scriptures, never has fashion's self-expression been so playfully explicit. But before you go emblazoning their slogans across your chest, be sure to brush up on the meanings.
by Alannah Sparks
MSGM
'Music was the inspiration for the menswear collection. We were listening to Johnny Cash and Vampire Weekend, and there were song lyrics hung on a mood-board.'- Massimo Giorgetti, MSGM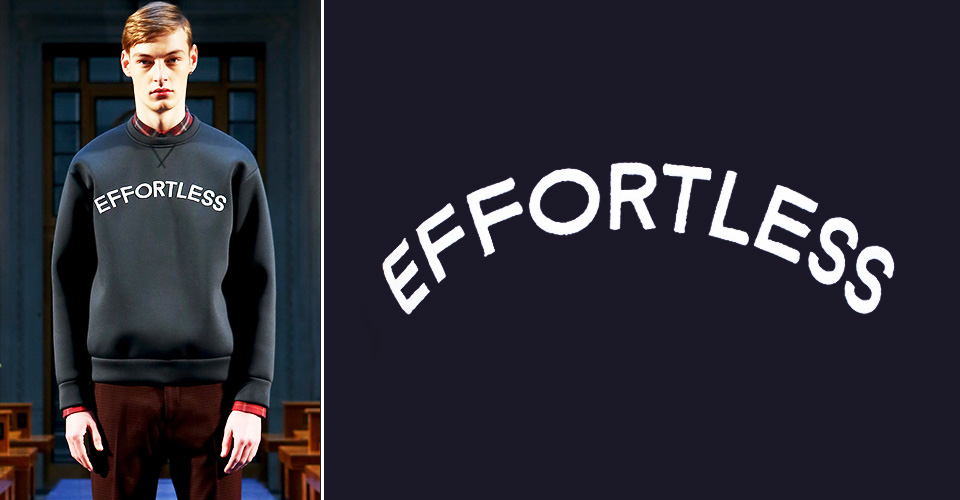 N° 21
'Today men are different to before, they don't follow trends to the letter. Instead they try to direct fashion towards their own style. There is something effortless in this.' – Alessandro dell'Acqua, No. 21
Acne Studios
Jonny Johansson's inspiration for AW14 was Winter Beach. "One year ago I bought a house in Torö. It was Ingmar Bergman's summer home in the sixties. It's quite far out and tortured." – Jonny Johansson, Acne Studios
KTZ
The definition of life force is a concept of spiritualism, the energy and source of all life. Having based his entire collection on the idea of four H's: Hindu, Himalaya, Holy, and Hockey, designer Marjan Pejoski used the words Life Force to express 'Something spiritual and secular, something old and something modern.'
KENZO
The white-picket towns of America's North West inspired Carol Lim and Humberto Leon's menswear collection, and David Lynch's unwavering talent for seeking out the unsettling within the mundane inspired phrases such as 'We Are Open' and 'Kenzo All Hours'.