From robots to secateurs, eyelashes to atoms, this season's prints make for a strange and wonderful mix. Do you prefer the sharp tang of a Kenzo window pane print or the rich sweetness of a Carven seascape? Are you enticed by the fizz of a McQ scratch print or craving the crunch of an Acne Studios mosaic? Well, here's the thing, you don't need to decide on just one. After all, this season is your pick 'n' mix. Load up on those E Numbers – more is better for AW14's most energised looks.
by Alannah Sparks
Geometry Rules
Psychedelic optics take a Sixties slant for this season's menswear and womenswear collections, with Opening Ceremony, Stella Jean, and Kenzo going graphic for the girls, and JW Anderson and Carven getting their Mod on for the men.
Face Off
Feeling two-faced today? You're well served with clothes to fit your mood: from Lanvin's salmon pink visages to Dolce & Gabbana's stoic Norman knights for men. And, for women: from Stella's doodled abstracts to MSGM's smudged lips and eyes, there's a face for everyone this season.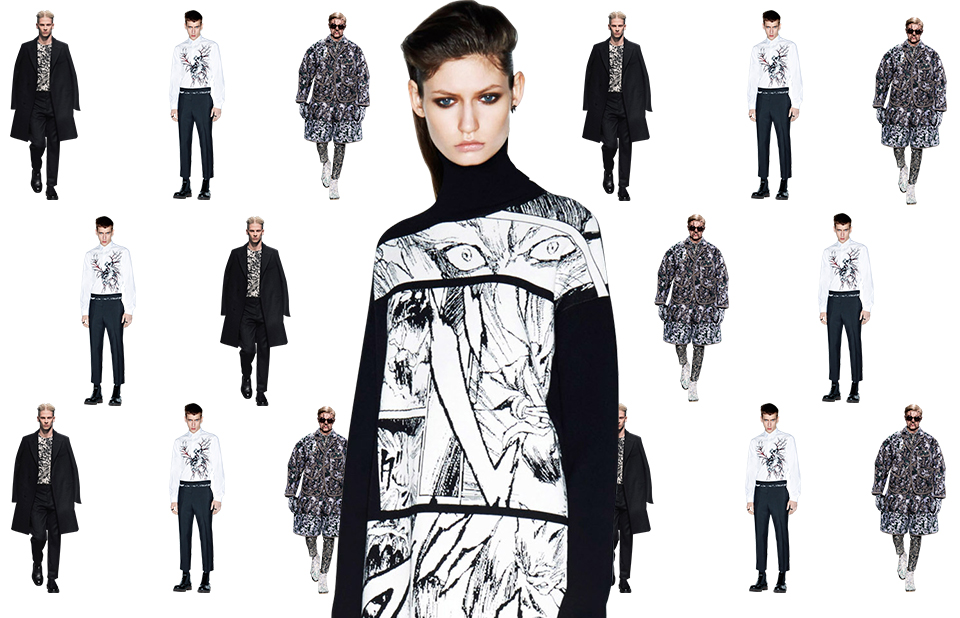 Etch a Sketch
Designers are taking pen to paper for a doodle-fest this season, with Carven's Guillaume Henry sprinkling his shirts with childhood scribbles, Thom Browne scattering menswear with crispy leaves, and Sarah Burton getting comical at McQ with Manga comic sketches for both sexes.
Signs and Symbols
Mary Katrantzou's elaborate AW14 dresses come pieced together from tiny embroidered symbols and woven badges, from road signs to smiley faces. Weird, winking motifs are a theme throughout the collections - just see Moschino's nutrition labels and Kenzo's DIY tools for proof.