Mathieu Cesar: Paris People
Mathieu Cesar
Often, when asked to name their favourite pieces of work, artists refuse, explaining it's like choosing a favourite child. Cult Parisian photographer and farfetch Superstore mentor Mathieu Cesar has no such trouble – 'it's the picture I did of my friend Zippora Seven' says Mathieu, a favourite of the directional fashion set. 'When I started shooting her it felt like time had stopped, it was this amazing feeling of being alone in this world.'
That's just one example of Mathieu's signature portraits – mostly black and white, nearly always of the coolest people on the cultural block, be it in music, art or fashion - and always enigmatic yet strangely familiar.
The Frenchman was making a film for Louis Vuitton in Mongolia when he first found his affinity for photography 'I brought a camera with me' he says of the trip, 'but I ended up spending more taking photos than shooting film.' By the time he got back to Paris he was ready to change career path, choosing portraits because 'it's a good excuse to meet interesting people who I appreciate and spend time with them.'
This mix of intriguing subjects and beautiful composition enamoured us so much that we asked Mathieu to shoot seven of his current favourite people just for us. Here's what he came up with…
Clara 3000
Tell us about Clara…
Clara is a DJ and art director for the French label Record Makers (home to Sébastien Tellier, Kavinsky…). She also owns the fanzine Mire and is the kind of girl who really represents her generation of interesting kids.
Tell us about the photo…
I took the photo like this because I love Clara's silhouette. She reminds me of Jack Skellington from the The Nightmare Before Christmas.
Marike Le Roux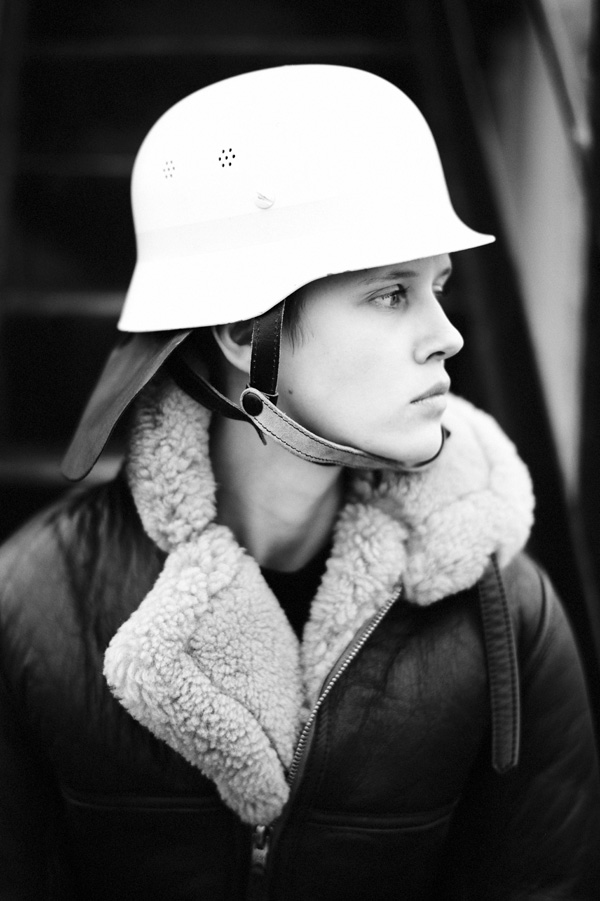 Tell us about Marike…
Marike is a South African model now based in Paris, she's doing really well in shows for labels such as Hermès, Mugler and Louis Vuitton. I discovered her thanks to my friend Lala from Marilyn agency, and she has this special look that's somewhere between Jean Seberg and Jeanne D'Arc, it makes me want to shoot her wearing armour!
Tell us about the photo…
It's on the roof of my office in Paris, and really I just wanted to see how she looked wearing my jacket - and an old helmet!
Louis Marie De Castelbajac
Tell us about Louis Marie…
Louis Marie is like a brother to me, he's an artist, designer and Armangnac producer - he's also the son of designer Jean Charles de Castelbajac, who gave me my first job in the fashion business. Louis Marie is full of creativity, today he might make a fencing jacket, tonight he can be in a princess' arms and tomorrow he'll be drawing a bottle for his Armagnac brand…
Tell us about the photo…
I was at the Castelbajac office and Louis Marie wanted to show me his new creation, that's when I took this picture.
Georgia Pendlebury
Tell us about Georgia…
Georgia is a young fashion stylist based in Paris, she styles about 60 % of my work, and it's always a fight on set between me and her because she's obsessed by techno Nineties fluoro style and I am more medieval, but it always comes out well in the end, she's really talented!
Tell us about the photo…
It was a Sunday at her place. She made a chocolate cake for me. She was surrounded by all these clothes, prepping for a shooting for the next day...
Lukas Ionesco
Tell us about Lukas…
Lukas is a young talented actor and professional skater who just got the lead role in the new Larry Clark movie! I met him in the street in Pigalle before my first exhibition and we've been close friends ever since. I've taken billions of photos of him, when you look at his face, it is impossible to not see his mother - Eva Ionesco.
Tell us about the photo…
It's a simple portrait – sometimes less is more. I love how he's looking like Jean Pierre Léaud in the famous 400 Coups film by Truffaut!
Jeanne Damas
Tell us about Jeanne…
Jeanne is a model and a muse. For me, she represents the real 'femme française'. She is that kind of independent woman, like Charlotte Gainsbourg - sexy with a natural beauty, she can wear everything and you'll always think she's cool...
Tell us about the photo…
I took this picture at Gare de l'Est train station next to my place. She was on the train platform waiting for Alain Delon!
SOKO
Tell us about SOKO...
Soko is a French musician and actress who is a close friend of mine. I love that she is an artist who knows exactly what she wants and when - today she is an actress, tomorrow she can play piano, the day after she'll do a voice-over for a Spike Jonze film.
Tell us about the photo…
I took it in a famous Parisian park - Les Buttes de Chaumont, and this shoot illustrates how photography is a good excuse for me to spend time with the people I love and appreciate!
By Hollie Moat