Kings From The East: Anthony Burrill
Kings From The East is the exhibition and shopping based Christmas project from Jaguar Shoes Collective
The Old Shoreditch Station - Jaguar Shoes Collective space and part of East London boutique no one - recently enjoyed a make-over, refurbished over the summer into 'a blank canvas for product lead exhibitions and retail experiences, giving designers and companies an opportunity to have a physical store in East London'.
And since there's no better time to show it off than the festive season, Jaguar Shoes are kicking things off with a series of fun and inventive Christmas shopping pop-ups, collectively dubbed The Kings From the East, after the three wise men from the classic nativity story – the original gift givers.
East London's Old Shoreditch Station
Jaguar Shoes' creative director Vickie Hayward explains, 'From 19th November to 23rd December a selection of designers and craftspeople have been invited down to show their wares and create unique Christmas gifts. There will be festive displays, bespoke present making and a Christmas Campari bar. It will be fun, affordable, unusual and hopefully better than the boring old high street.'
Lighting designers PLUMEN, homewares duo CUSTHOM DESIGN, tea maker JOE'S TEA COMPANY, language loving baker BEE'S BAKERY, and ceramic specialists PARASITE CERAMICS will all be participating at some point, but it's print-maker and graphic designer Anthony Burrill's residency that's got us really excited.
Graphic designer and print-maker Anthony Burrill at work
Known for his up-beat, vibrant pieces, the Lancashire born artist studied at the RCA before finding acclaim for his 'Work Hard And Be Nice To People' print series. Burrill has exhibited at culture hot-spots like the Barbican and iconic Parisian store Collette, as well as holding work-shops at the V&A and Somerset House based graphic art fair Pick Me Up, which is where he became acquainted with Jaguar Shoes Collective.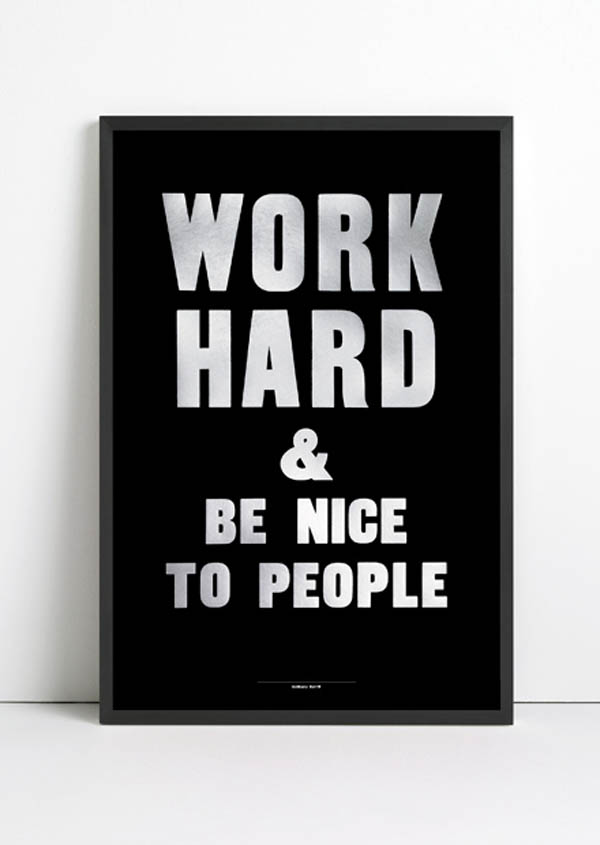 One of Burrill's most famous pieces
From this Monday until November 25th, The Old Shoreditch Station space will be filled with Burrill's Woodblock prints and Woodblock postcard sets, and he'll be creating personalised rubber stamp postcards for visitors to the pop-up shop. We caught up with him to find out a little more about what makes this such a special event…
Farfetch.com: Can you tell us what you'll be doing for Jaguar Shoes' Christmas Emporium?
Anthony Burrill: I'm gathering together all my woodblock posters for the first time. I've been printing woodblock posters since 2004, but haven't shown them all together in a single exhibition before. Each poster is printed using traditional woodblock printing techniques by Adams of Rye, a local printers near where I live. Alongside the posters will be a new series of smaller 'Postcard Prints', a tote bag and a selection of prints from my recent 'MADE IN L.A.' show.
'Made In L.A' , the show recently curated by Burrill
Why did you choose to create personalised rubber stamp post-cards?
I like making things by hand, getting away from the computer screen to make work that has a tactile hand-made feel. Rubber stamps are cheap and easy to produce and are great fun to play with - it brings out the child in everybody.
Examples of Burrill's work
What first prompted you to get into wood block prints?
I've always been fascinated with print, whether that's screen-print, litho or woodblock. By a sheer stroke of good fortune I moved to Rye and discovered that the local printers still used wood and metal type. The woodblock type gives a wonderful warm quality to the finished prints, something that is impossible to replicate any other way.
Do you have a favourite among those that will be on show in the pop-up shop?
My favourite and perhaps best known is 'WORK HARD & BE NICE TO PEOPLE', it's a philosophy that I truly believe in and I'm very happy to spread the word with my work. It'll be on show in its latest edition - printed using reflective silver on matt black paper.
Wby Hollie Moat