GUEST EDITOR: MUSIC CRITIC'S ALBUM PICKS
Gifts, parties, down-time…music is a major part of the festive season. So we asked The Observer's Tom Lamont to whittle down this year's offerings to the very best of each genre, plus some of his festive and personal favourites.
London-based Tom kick-started his career at culture bible Time Out, before moving over to The Observer in 2008, where he has interviewed the likes of Adele, The xx, Florence + the Machine, Mumford & Sons, and Kasabian - as well as musical veterans Dave Grohl and Tim Burgess, and some promising newcomers (such as The Staves and Michael Kiwanuka). Here are his album picks…
The Rock Album:
Boys & Girls by Alabam Shakes
This storming debut from the Athens, Alabama quartet came out in the spring and hasn't lost its freshness yet. From the very first track – the howling, wonderful Hold On – it's an adrenaline-coaxing triumph.
If you like this try: Kiss Full of Teeth, Gabriel and the Hounds
The Indie Album:
Our Favourite Stories By Dog Is Dead
The lead singer's yearning voice won't be to all tastes, but there are some very fine tracks on this debut by the rising Nottingham band. Check out the upbeat Glockenspiel Song and the haunting Two Devils.
If you like this try: An Awesome Wave by alt-J
The Rap Album:
Camp By Childish Gambino
Humour is the key to this compelling, brash release from Childish Gambino – better known as the Community and 30 Rock actor Donald Glover. 'Man, why does every black actor gotta rap some?' Glover asks on the opening track. 'I dunno but I'm the best one.' He might be right.
If you like this try: 1991 by Azealia Banks
The R&B Album:
Channel Orange By Frank Ocean
When the American R&B singer's album came out in the summer the music was somewhat overshadowed by Ocean's quiet revelation that he was bisexual. But this is a beautiful album, lead single Bad Religion a proper spine-tingler about unrequited love.
If you like this try: Portrait by Josephine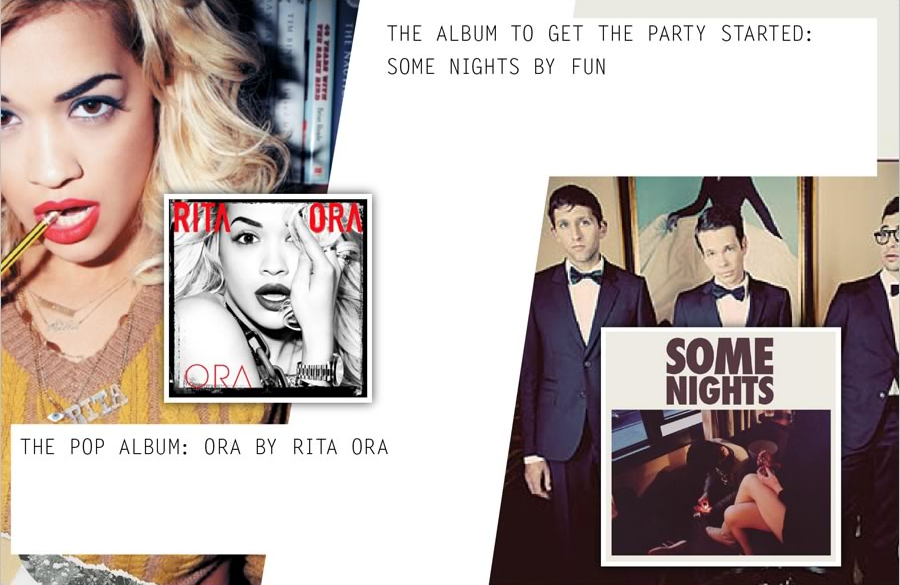 The Pop Album:
Ora By Rita Ora
A star in the making (if she isn't considered one already), the 21-year-old Londoner's debut features some uncommonly strong tracks, including the epic break-up anthem R.I.P.
If you like this try: Born To Die by Lana Del Rey
The Album To Get The Party Started:
Some Nights By Fun
Gleefully silly at times, this campy album by New York indie band Fun features a couple of first rate party tunes: the George Michael-ish title track, and the drum-led smash single We Are Young featuring Janelle Monae.
If you like this try: Confess by Twin Shadow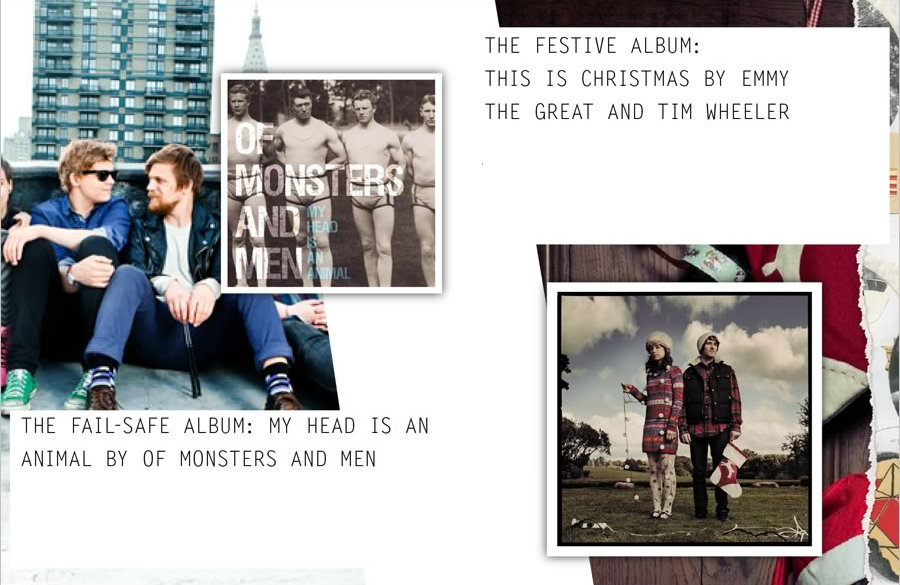 The Fail-Safe Album:
My Head Is An Animal By Of Monsters And Men
This six-piece Icelandic outfit make rollicking chamber folk that's very difficult to dislike. It's cheeky, shouty and the lyrics don't always make total sense – but the overall package is pretty irresistible.
If you like this try: Shallow Bed by Dry The River
The Festive Album:
This Is Christmas By Emmy The Great And Tim Wheeler
Technically released at the end of last year, a single was recently released from this fascinating Christmas record, so I'm including it. A likable, tongue-in-cheek collaboration between acoustic balladeer Emmy the Great and former Ash frontman Tim Wheeler, it's great fun.
If you like this try: Tinsel and Lights by Tracey Thorn
The Album Of 2012:
coexist by the XX
The London band's follow-up to 2009's self-titled debut was worth a two-and-a-bit year wait. No dramatic changes in style or substance, instead a gentle expansion of the band's signature sound: ghostly, electronic-edged indie, utterly absorbing from the heartfelt first track on.
The Album that says the most about me:
dear ... By keaton henson
A seriously gloomy record for the most part, this debut from a shy 24-year-old Londoner will be way too depressing for some. But I've proved a total sucker for Henson's fragile voice and his spare arrangements.