Give your wardrobe a growth spurt with this season's floral prints
Forget pansies: this season's power plants are flourishing everywhere - from the trim on a pair of trainers to a full-blown flowerbomb on spring's bomber jacket. Like steroids for your wardrobe, florals will lift your look into summer. Here's why...
Because they're the bomb
The brilliant thing about this season's blooms is that they come in sporty shapes, which instantly sets them apart from the silky-sleaziness of florals past. The bomber is the showpiece for this clever fashion trick, but an easy-going sweatshirt is just as fresh a way to make a cutting-edge horticultural statement. So cutting-edge you might need secateurs.
Because they make you look cultivated
Do those tenderly-painted petals remind you of a Jan Breughel The Elder painting? Does that sweatshirt remind you of the well-thumbed pages of a Victorian botanical illustration book? No need to swot up on art history – all you need is a burst of blossom to wear with skinny jeans and a studious air, and automatically you'll become a scholar of style.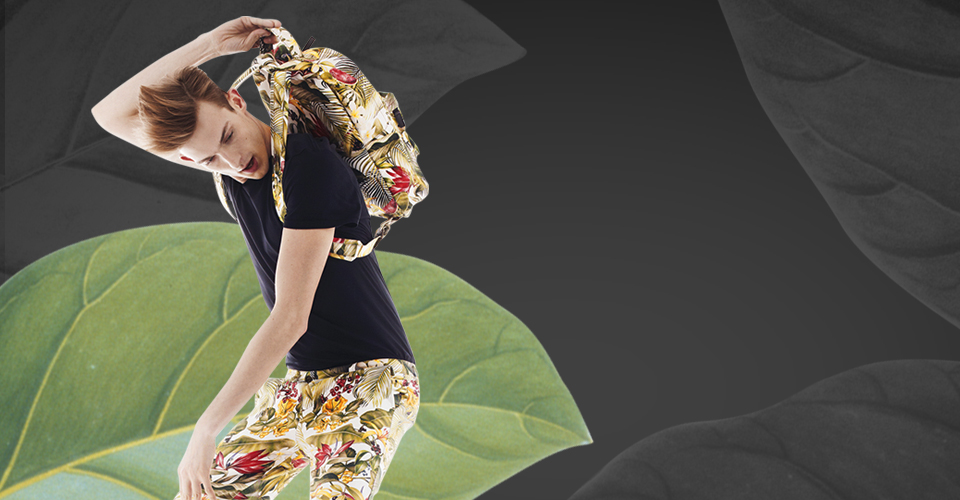 Because flowers are the perfect finishing touch
Just like mother always told you - flowers are the height of good manners, especially when you use them as the finishing touch to your outfit. Try a backpack, a cap or a spray of flowers on your trainers to add a flourish to your look and dip a green finger into the trend.
Because it's easier than gardening
Hate sweating over a hot lawn and getting muck under your fingernails? Put down the trowel and pick up a flower-adorned t-shirt instead. It's like fertiliser for your look: pair with some turned up summer slacks, a fresh pair of kicks, and watch your style cred blossom.
Because They Go With Everything
From Riccardo Tisci's flower-camo mash-ups at Givenchy to Christopher Shannon's expert mingling of ditzy Liberty florals with sporty zips, it seems no sartorial stone was left unturned in this season's quest for botanical bounty. Try some roses with your tartan, or clash hibiscus with your stripes – how does your garden grow?
Because Real Men Wear Florals
Frank Ocean glowering at the Brit Awards wearing a bed of roses; A$AP Rocky bounding through his music video 'Wild for the Night' in coordinating hothouse flowers; Jared Leto pouting his way through Instagram - these high-achieving men prove that florals certainly aren't for wallflowers.
Because they'll make you look like a heartthrob
The Hawaiian shirt has been loitering around eighties bad taste parties for a while (thanks Tom Selleck), but the short-sleeved floral shirt is back, and we couldn't be happier. Wear it with a white t-shirt and Rayban Wayfarers for Indie-band allure, or make like Leo and allow it to flap open in the wind, revealing only a golden chain and a doomed, star-crossed chest.