Celebrating Damien Hirst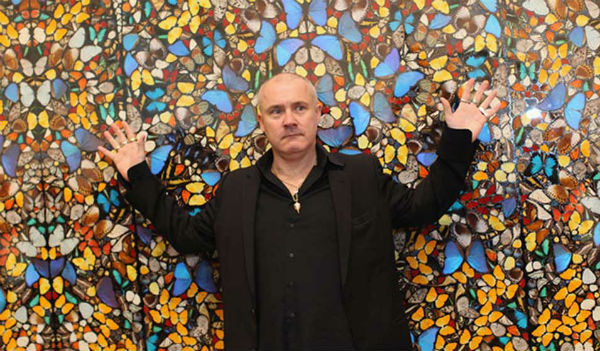 British artist Damien Hirst
In celebration of the birthday of one of Britain's most famous living artists, we thought it was the perfect excuse to take a look at Damien Hirst's latest exhibition at London's Tate Modern.
Presenting over twenty years of iconic work, Hirst's Retrospective is (as you'd expect) certainly not for the faint hearted. In sum, we experienced a whirlwind of trippy psychedelic swirls and spinning wheels that left our heads turning, and as if that wasn't enough - we got stuck in a queue next to a rotting cow's head. Covered in flies, the stench was less than pleasant and as we passed Hirst's infamous macabre animals suspended in formaldehyde, questions such as 'how' 'why' and 'is this technically animal cruelty?' filled our dizzy heads.
One of Hirst's controversial animal works
Staring at Damien's world renowned multi-coloured large dot canvases was lots of fun, but nonetheless looked like the kind of drawing a child would do. Similarly, the enormous ashtray filled with cigarette butts was puzzling - why would one pay millions for this when surely you'd just nab one off a chain smoker? Indeed, as we perused the exhibition we found ourselves wondering, what is it about Damien Hirst that makes him so successful?
Well, it's exactly for those infantile and controversial reasons, and predominantly that Hirst was one of the first artists to conceive such pieces that it led to him becoming the most prominent of enfant terribles. And, as with any art, there's more to Hirst's work than meets the eye (and senses). Each piece is steeped in meaning and his animal pieces in particular are representative of life and death. In essence, they are an artistic homage to the cycle of life.
Damien Hirst's In and Out of Love (1991)
The highlights included In and Out of Love 1991, which featured live butterflies (an exhibit has not been shown in its entirety since its creation) and Pharmacy 1992 boasts a room sized installation decked out with glass fronted cabinets of the type found in a laboratory or hospital.
Elatedly, Hirst comments, 'We have been planning this show for so long I can't believe it's finally happening – I think I was avoiding looking back but now I've done it it's exciting! It's nearly twenty-five years of my life. There is something for everyone and I'm glad people will get the opportunity to see my work and judge for themselves.'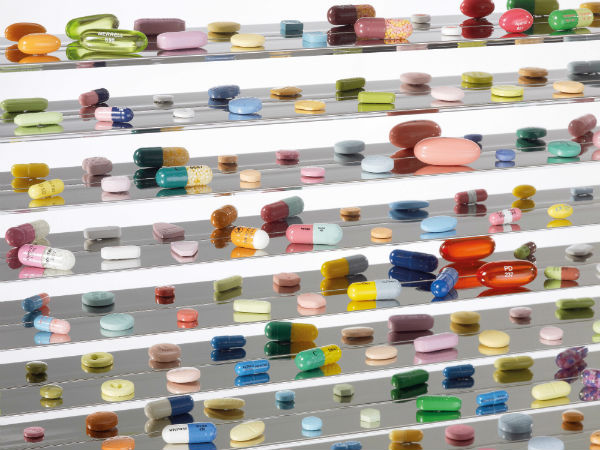 Damien Hirst's Pharmacy (1992)
Love or loathe him, one thing's for sure - Damien Hirst's exhibition will certainly give you food for thought. Happy birthday Damien!
The exhibition is on at London's Tate Modern until the 9th September 2012. Visit www.tate.org.uk
by Beatrix Zwart