The Beauty Trend
Eyebrow kits at the ready – fashion's focus on brows is staying put for another season. And not just the bushy kind – there's a whole spectrum of looks to consider, from the barely there, bleached variety to classic arches all the way through to wild, untamed brows a la Bert from Seasame Street. Also on your beauty agenda for AW14 – buying copious amounts of eyeliner and learning all the different ways to braid your hair. Who's doing it: Alexander McQueen, Givenchy, Marc by Marc Jacobs, Anthony Vaccarello
The Inspirations
Fashion is having a love affair with classic fairy tales, the visual embodiment of adventures in the woods and happy ever afters flooded the catwalks via poison apple motifs, red hoods and flowing princess dresses. Elsewhere, several designers reacted to the announcement of a new Star Wars film by showcasing the classic sci-fi film prominently in their collections, whilst others looked to real-life heroines like Amy Johnson with new takes on the aviator jacket. Who's doing it: Preen, Rodarte, Simone Rocha, Sacai, Dolce & Gabbana, Valentino, Ashish
The Prints
Recently some of the most exciting designers on the fashion circuit have made prints their calling card – Kenzo and Peter Pilotto spring to mind – so it's no surprise that pattern has a strong showing for AW14. Naturally there's everything from op art to animal print on show but the dominant print to wrap yourself up in for Winter is tartan, a surprisingly versatile choice which add a punkish edge to skirts and dresses or a warm, regalness to coats and knits. Who's doing it: Fendi, Carven, Sacai, Stella Jean, Proenza Schouler, Peter Pilotto, Kenzo.
The Shoes: Mannish Flats
This season's most covetable shoes threaten to drastically reduce the sales of blister plasters the world over, as they are – praise be – flat and comfortable. Taxi shoes belong in the annals of yesteryear: this season, stride out in brogues, monkstraps, trainers and winklepickers and wear them with everything from your masculine suit to your slinkiest party dress.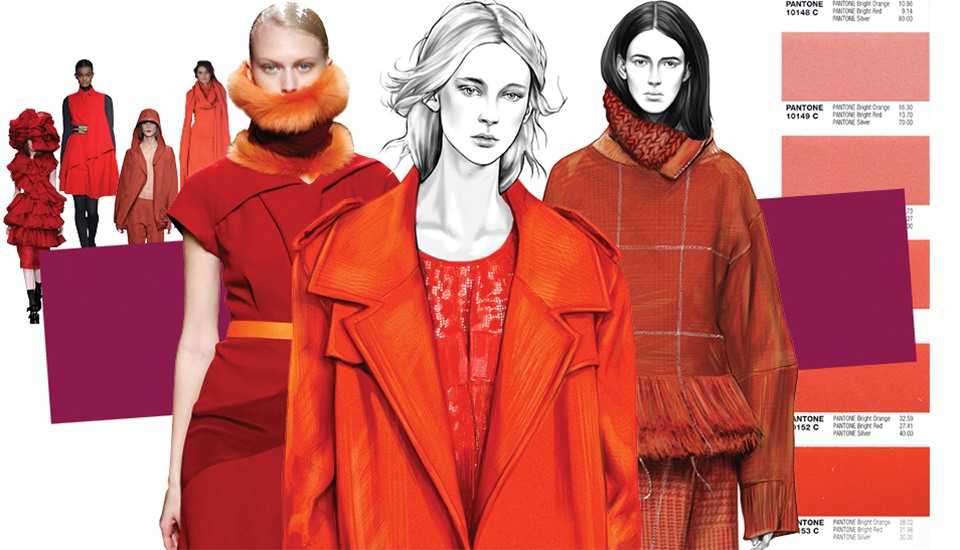 The Colour
All skin tones rejoice, there's something for everyone this season, from the cold, hard white and black of monochrome to rich, velvety Autumnal tones like russet, mustard and gold. Rather aptly, red is the hottest colour of AW14, and if the idea of sporting an outfit the same colour as a fire-engine fills you with fear, don't worry. All shades of the spectrum are in the spotlight, take your pick from burgundy, scarlet, claret and coral. Who's doing it: Etro, Givenchy, Dolce & Gabbana, Valentino, Emilio Pucci, Fendi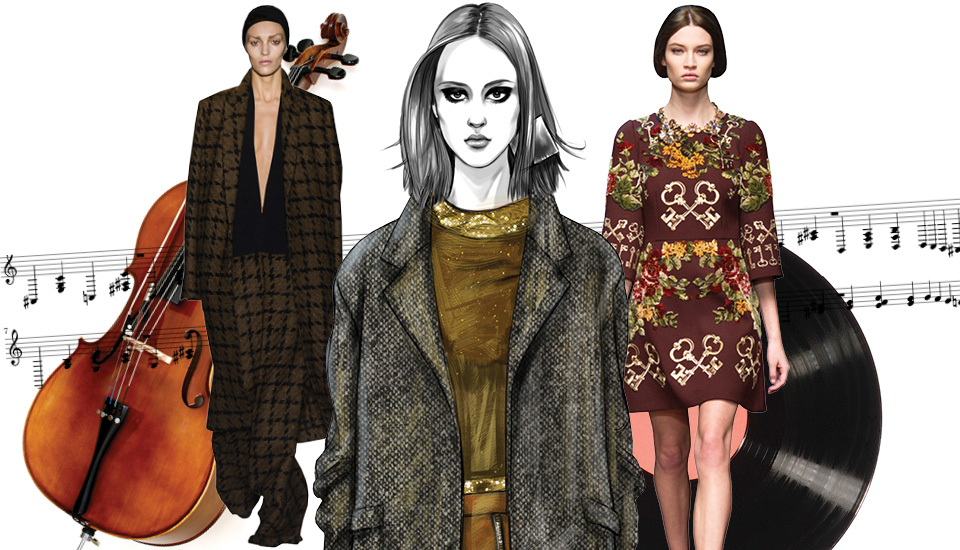 The Sound-tracks
Setting the mood for AW14 was a range of music as different as the collections themselves. Classic symphonies got their day at the likes of Haider Ackermann, whose sartorial intelligence was reflected by the sounds of Schubert, whilst Dolce & Gabbana got playful with Tchaikovsky's Dance Of The Sugar Plum Fairy. On a more modern note Barry White's Never Gonna Give You Up at Etro, Missy Elliot's Work It at Proenza Schouler, and Devo's Girl U Want soundtracking Isabel Marant was worth dancing in the aisles for.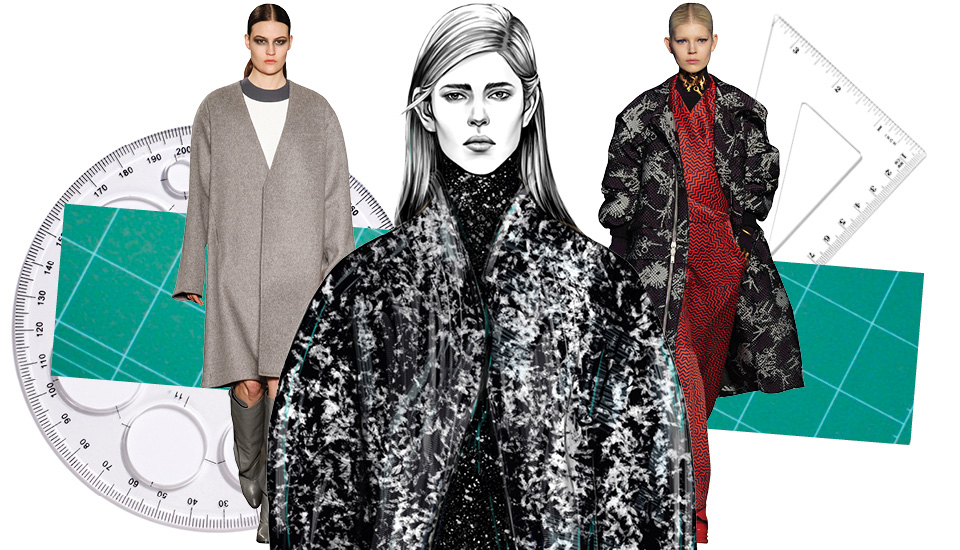 The Silhouette: Outsized
Remember curves? This season, forget they ever existed because there's simply no place for them in the AW14 fashion-scape. From gargantuan coats at Kenzo to vast swaddling slacks at Haider Ackermann and ballooning dresses at Sacai, if it shows off your body this season then it's not worth wearing.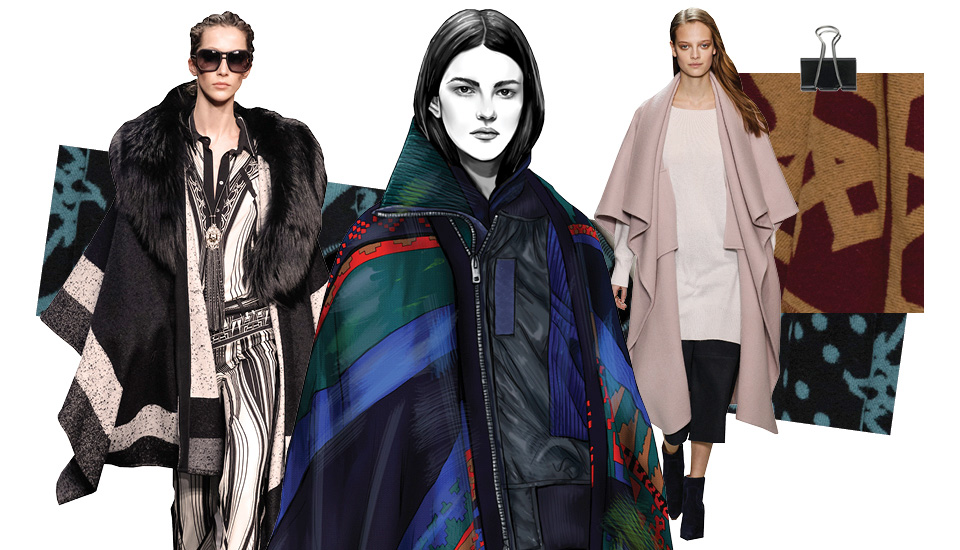 The Coat: Blanket
Inspired by the extreme weather conditions of recent winters, designers reverted to an almost primal way of battling the elements this season. Enter the blanket coat – soft, cocooning and the next best thing to your very own duvet. Whether knitted, woven, monogrammed or multi-hued, as long as it can be draped and wound around you in a dreamy nomadic manner then consider it a wrap.
Illustration by Mengjie Di