Arropame leeks and plant feelings
Arropame advertise November events in their gallery space
We're fast heading into that time of year when everyone suddenly becomes obsessed with greenery – fir trees, the smell of pine needles, halls decked with boughs of holly, leafy wreaths attached to doors.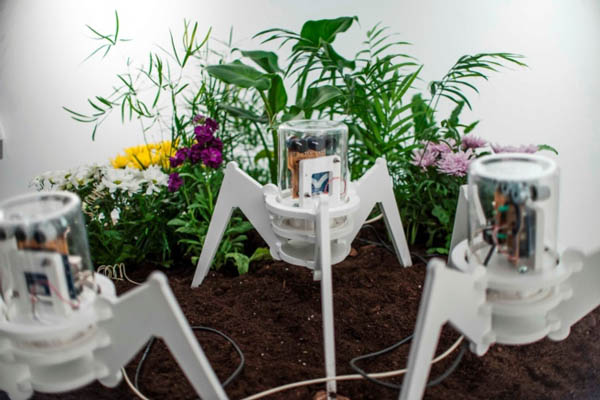 Part of the exhibtion in Arropame
And at first glance it would appear that Bizkaia based Arropame has caught the bug early, with greenery aplenty on the floor of the Spanish boutique. But as you'd expect from a store whose team describes it as a 'shelter for fashion and art gallery space', these are not Christmas decorations, but in fact two of its latest exhibitions, ones which takes plant life to all sorts of experimental heights.
Yoshihito Mizuuchi's leek installation is watered
First up is an installation with that perennially over-looked member of the vegetable family – the leek. Japanese artist Yoshihito Mizuuchi has taken a bunch of them, attached felt pens to them with the intention that as the leeks grow they will create an artistic alphabet soup.
Yoshihito Mizuuchi's leek installation
This is accompanied by another exhibit, Clorafila 3.0, which investigates electrical impulses in plant organisms, working with the theory that plants transmit feelings and we can hear them.
The Clorafila 3.0 exhibit
Wacky concepts maybe, but ones that are certainly interesting, and visually intriguing all the same, and a side-serving of science with your Carven makes it all the more interesting. The exhibitions will be on display at Arropame until 29th November, from Tuesday to Friday, between 12pm and 2pm, and 6pm and 9pm.
by farfetch.com