5 Style stars to watch!
Craig Lawrence Spring/Summer 12
New blood in the fashion world is what keeps the industry so exciting. With that in mind, we've rounded up five of the best, a group of designers who are going to be making waves around the globe in their respective sartorial fields...
Craig Lawrence Spring/Summer 12
One of the most exciting young British designers on the horizon, Lawrence is perhaps the only one to have both appeared on Blue Peter (and has the badge to prove it) and cited 'vajazzling' as an influence on one of his collections. In more standard stylish fare he has also interviewed Lady Gaga for MTV and provided Tilda Swinton with a traffic stopping dress on the cover of Another magazine.
Hailing from Ipswich, Lawrence was taught to knit by his Gran, and later attended Central Saint Martins, where he ended up doing the knitwear for Gareth Pugh's collections (a role that's lasted six seasons so far).
He launched his own label in 2009, with the naturally clingy properties of knitwear lending an immediate sexiness to his pieces, something he counterbalances with a daring sense of experimentation, dabbling in in semi-waterproof knits in celebration of rainy British summers and conveying influences like his home town and nearby seaside resort Felixstowe with unusual shapes and construction. They're pieces that invite the wearer to be daring, but as Lawrence says himself, he designs for 'tough girls'.
And truly in the spirit of the 21st century, he embraces multi-media, and has made several fashion films to showcase his work, like this one, Carousel, for S/S 10 which he produced with Jez Tozer and stylist Katie Shillingford.
Craig Lawrence Autumn/Winter 12
Thomas Tait
Thomas Tait Spring/Summer 12 (left) and Autumn/Winter 12 (right)2
The New York Times' famed fashion critic Cathy Horyn brought Tait firmly into the spotlight last year when she gave a lukewarm review to several high profile British designers at London Fashion Week but raved about the collection from Canadian-born Tait.
The rest of the industry was quick to catch on and his Autumn/Winter 12 show last month was one of the city's most hotly anticipated. Tait had a technical background before going on to study at Central Saint Martins, something that is reflected in his pieces, which often have a striking yet discreet structure, an intelligent use of lines and silhouette, and a talent for tactile materials – the use of dark, supple leather mixed up with plump, mossy velvet and some soft quilting, so that every piece begs to be touched.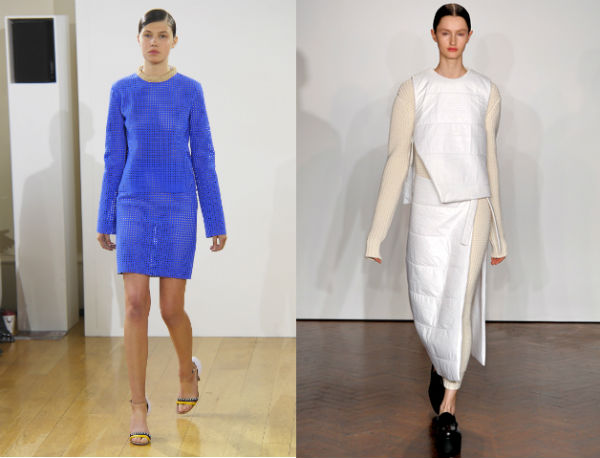 J.W Anderson Spring/Summer 12 (left) and Autumn/Winter 12 (right)
Anderson's name has been one to drop in the fashion insider's circle since 2007, when the young Irish-born designer launched his menswear collection and was quickly proclaimed one of London's coolest men about town.
His progression to womenswear over the last couple of seasons has seen him gain even more heat. As a former drama student, his work is as dramatic and experimental as you'd expect, but Anderson's genius lies in the ability to make the graphic and abstract inherently wearable, balancing his innovative approach to texture and fabric with clean lines and neat tailoring.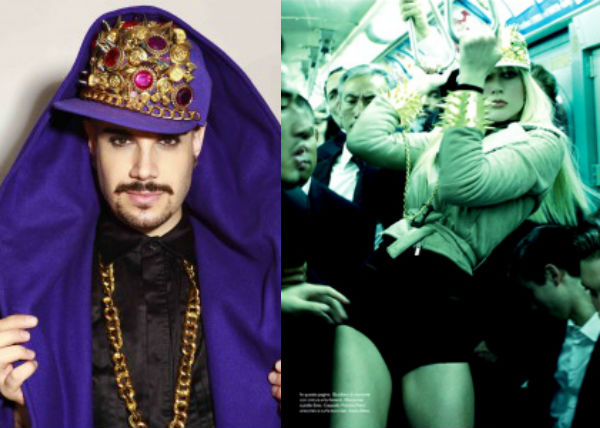 Deryck Todd modelling one of his own designs, and a Deryck Todd hat on a model in Vogue Italia
Fashion forward hat makers are a rare but welcome addition to the fashion industry, Todd is the latest among their number but one far removed from traditional millinery. The American started wearing baseball caps whilst in high school, and when he got a bit older and began wearing glamorous eye make-up, he decided to customize the hats to match.
Influenced by the vibrant and colourful nightlife of down-town New York, his eponymous line uses crystals, spikes, chains, coins, feathers, jewels and pom-poms to embellish the headwear, which is reminiscent of golden-era Versace, but with more of nod to urban counter-culture.
Mikio Sakabe Spring/Summer 12 and one of his unisex pieces available on farfetch.com
Though Sakabe studied fashion in Paris and Anrwerp, and is still based in the French capital, the Japanese designer's pieces are a celebration of his homeland – a hybrid of smart and playful, mixing a pretty aesthetic with a sharp intellectual edge.
His collections often take influence from urban architecture, and some of his designs have even incorporated miniature building into their make up.
by Hollie Moat