5 of the label's biggest fans share their sartorial stories
We ask 5 men about town to apply their own aesthetic to Paul Smith's colourful new collection for stylish spring dressing…
Words by Hollie Moat, Photography by Matthew Brookes, Styling by Tony Cook
From left: James wears jumper and jeans from Giulio; Sam wears coat, sweatshirt from Giulio and chinos; Gwilym wears suit from Giulio, and cardigan; Myles wears polo shirt and trousers; Karlmond wears blazer, shirt and track pants; all by Paul Smith.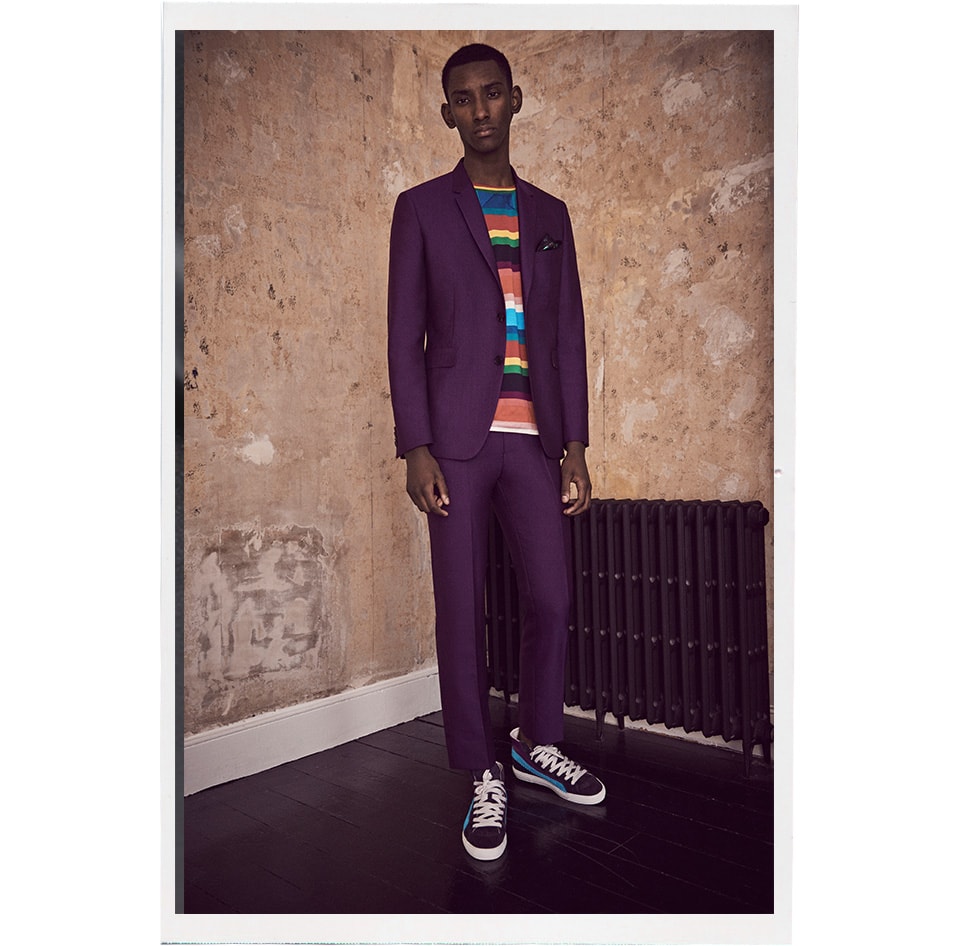 Myles Dominique

Model

My work
'I just came back from shooting a Burberry campaign so I've been quite busy. [To do my first campaign] was quite scary, but it was something a bit different – though I do actually really enjoy walking in shows. I've been modelling nearly a year, I got scouted in Peckham when I was going to the corner shop to get milk. I just started laughing. I do like modelling – it's tiring, but it's cool.'
My wardrobe
'I actually walked in the Paul Smith SS17 show. I wore a really colourful suit and think I could pull it off in real life, but it's the stuff with the dinosaurs I really like. Off duty, at fashion week and things, I wear jeans mostly – tracksuits when I can. When you go to castings it's more about your walk than what you're wearing.'
Why I Love Paul Smith
'I like it because it's so colourful, and I'm actually quite a colourful person.'
Myles wears suit, T-shirt and sneakers all by Paul Smith.
Shop now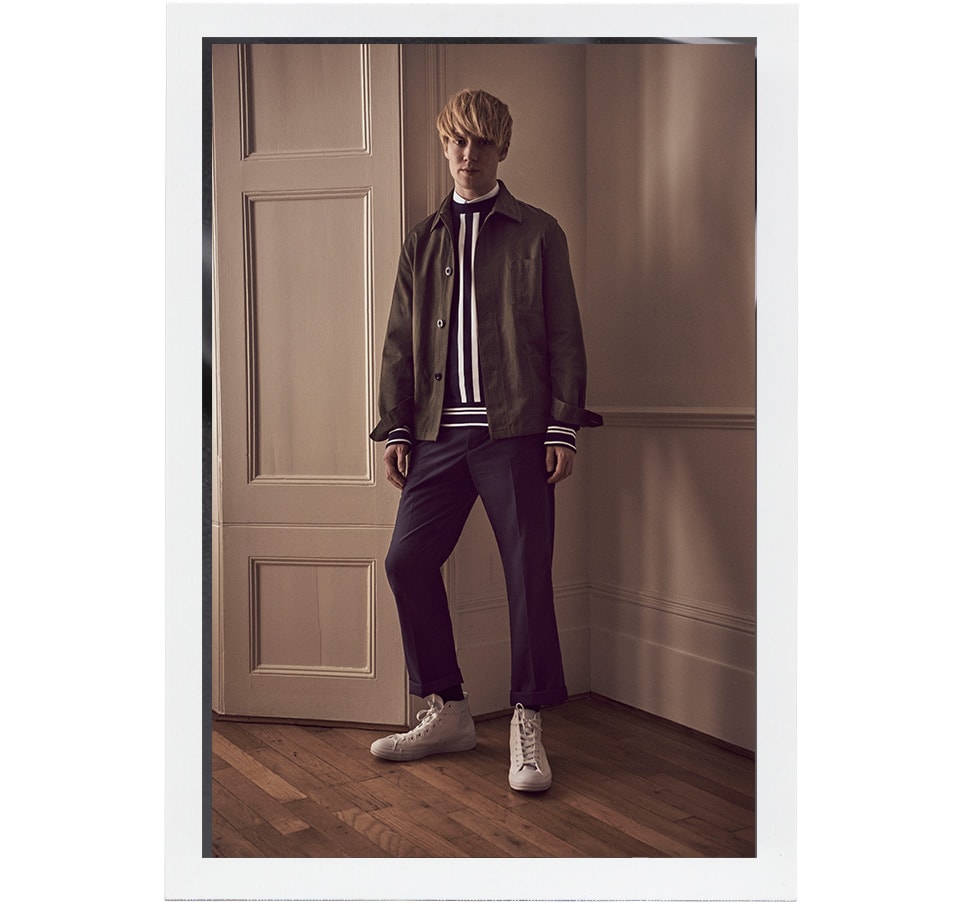 Sam Cotton

Fashion Designer Agi & Sam

My work
'We're working on the [London Fashion Week Men's] collection for June. It's the same every season, you think you're on top of things and then something goes wrong, but I made sure we began really early this time! When we started out we were just watching Jeremy Kyle and getting drunk – we only had [Agi & Sam] design to think about. [Now,] we're producing stuff, we also run a high-street-level label and we're doing some consultancy work for a big sportswear brand, so we have to balance it out with business.'
My wardrobe
'I wear more of the stuff we research than actual Agi & Sam: a lot of old army surplus – things we'll take patterns from and remake in our own way. I have a sort of uniform: a long-sleeved T-shirt and some sort of utility or military jacket, black trousers (and today they're Paul Smith, actually) and Doc Martens. It probably looks like I always wear the same thing.'
Why I Love Paul Smith
'What's amazing about it, for me personally, is that it's always managed to remain relevant – he's been very brave in always pulling old stuff and starting a new era.'
Sam wears jacket, sweatshirt, shirt, and trousers all by Paul Smith. Sneakers by Converse.
Shop now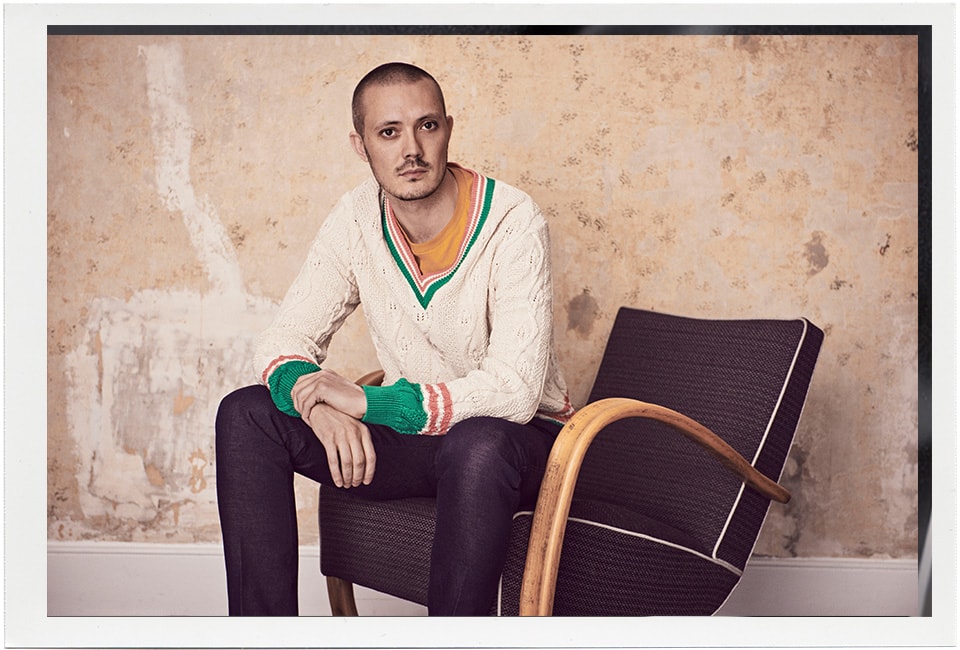 James Davison

Illustrator

My work
'I'm finishing a job for [London restaurant] Bistrotheque, and I just completed some illustrations for a compact for MAC – last season I went with them to London, Paris and Milan to sketch make-up looks backstage. During menswear and womenswear [fashion weeks], I usually do this for GQ [Style] or Love. MAC saw my stuff on Instagram and asked me to do it for them, to put on their social media; it's a different way of documenting what happens there.'
My wardrobe
'My creativity goes elsewhere [than my clothes] – it's usually a white T-shirt, jeans and a pair of nice trainers. I don't really look after my clothes that well. I'll get an expensive pair of jeans, wear them to the studio and they'll get covered in paint. I always seem to dress for comfort, really. If it's fashion week, yeah, I might have to give it a second thought, but if you see pictures of me working backstage they'd be the same as pictures of me working in my studio; I like that.'
Why I Love Paul Smith
'That last collection, I thought the colours were amazing, really bright, really fresh.'
James wears jumper, jeans from Giulio, sneakers, all by Paul Smith.
Shop now
Karlmond Tang

Writer and Stylist

My work
'My website is sort of like a hub for the work that I do – photography, a bit of styling, a bit of writing. It used to be a blog and was a bit more about my style and how I looked, but it's sort of evolved [into this]. Last week I had this amazing day; Balenciaga did the Fashion in Motion [event] at the V&A and my friend manages the shows. He said: "Why don't you come down and hang out with the models and designers and the clothes?" So I managed to get all these pictures of them around the V&A.'
My wardrobe
'I always start with the trousers. I tend to dress smart every day, but I love walking [and] I want to be comfortable – I've just started wearing trainers again, I hadn't worn them in years. I don't tend to wear shirts that often, but when I do it'll be something like this [pictured]. And I do like a black jacket – I used to work in finance, so maybe that suit-and-tie thing has stuck with me a bit!'
Why I Love Paul Smith
'His SS17 [show] was one of the most chilled I've ever been to – amazing. The music was fantastic, the casting on point. And the attitude didn't feel stuck up, it didn't feel fashion, didn't feel pretentious.'
Karlmond wears jacket, shirt, and chinos, all by Paul Smith.
Shop now
Gwilym Lee

Actor

My work
'I have a new series called Jamestown, about the first British settlers in America, but at the moment I'm doing a play at the Hampstead Theatre called Diminished – a cheery little number about a woman who kills her own child. The context is a bit of a slow drip-feed throughout the play, [and] it becomes a discussion about how responsible for our actions we are, how mental illness is a matter of perception, not black and white. It's heavy and bleak – a big emotional piece, but really interesting. And I play the husband, who is a very stoic character, holding it all together.'
My wardrobe
'I don't have a set way of dressing, it's just however I feel on the day. Early on in rehearsals you don't want to wear anything that's going to make you rigid or make you walk or stand in a certain way, you want something that's nice and loose and free, until you find the physicality of the character.'
Why I Love Paul Smith
'I love getting dressed up, and an outfit like this: a classic, timeless look with well-made, tailored clothes, is what I'd always go for. I feel comfortable in [these] suits.'
Gwilym wears suit, shirt both by Paul Smith.
Shop now