The Hot List: November
Time to burn, bin or dry clean that Halloween costume – it's November! And you know what that means, by the end of the week there'll be no escaping the festive season. But don't be overwhelmed, our list of cultural picks (and wardrobe advice) will help you ease right in.
Eat:
Pumpkin Pie from Bouchon Bakery, California
This Thanksgiving, impress everyone with this fancy take on the classic dessert from Thomas Keller's French eaterie. Picture pumpkin bread layered with spiced pumpkin mousse and sweet vanilla dough. No wonder it's topped with gold!

Style tip: Thanksgiving is an occasion, and although a certain of amount of effort is required, you'll obviously want to indulge. Style up your sweats for a perfect compromise.
See:
Nocturnal Animals
It's no surprise this thriller, writer/director and designer Tom Ford's second foray into filmmaking, is super stylish. The drop-dead gorgeous cast includes Amy Adams and Jake Gyllenhaal as an estranged couple – expect dark twists and turns.

Style tip: Pay homage to the 'sexy academic' look that Ford perfected in his debut film, A Single Man, by sporting sleek tailoring in luxe, tactile fabrics.
Visit:
The Christmas Market, Innsbruck, Austria
Medieval houses, twinkling lights, snow-dusted peaks in the distance – Innsbruck is right out of a Christmas card, and there's no better place to get you in the festive spirit. Head to the market in Altstadt (Old Town) at dusk to see trumpeters play carols at the 500-year-old Golden Roof.

Style tip: We probably don't need to point out that Austria is rather chilly in November – wrap up in a cosy coat that can be dressed up or down for all weekend activities.
Read:
Swing Time by Zadie Smith
The much-lauded author of On Beauty and White Teeth is back with new novel Swing Time (the literati are very excited). Lucky Londoners can catch her talking about the book at Florence Hall on 21st November, or join the US tour from 15th November if you're stateside.

Style tip: Polo necks and tweed share a long-term association with literary types – pair with sneakers for a 2016 spin.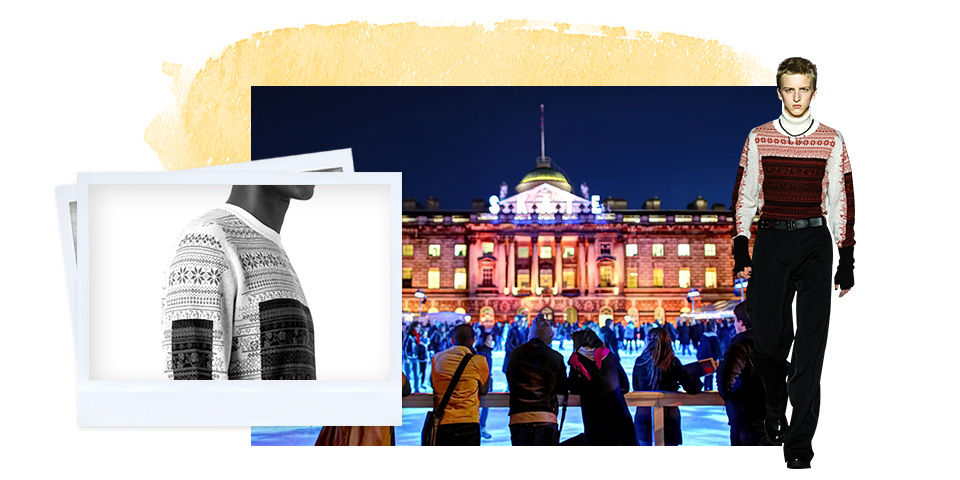 Wear:
A Festive-Forward Knit
Christmas is looming, but it still feels a little early to be bringing out snowflake and reindeer prints. Warm up (get it?) by stepping out in this Dior Homme sweater, the perfect mix of alpine cheer and AW16 cool.

Style tip: The most important thing to remember when leaning towards festive-wear is not to look twee. So try and wear with something dark and edgy.