WHAT MAKES A FASHION PRODUCT CONSCIOUS ON FARFETCH?
By shopping Conscious products you are supporting brands that are committed to doing better and help you choose positively on FARFETCH. 
In order to be awarded our Conscious label, a product must meet one or more of our sustainability criteria listed below. In the criteria development process, FARFETCH engaged the expertise of some leading organizations in the industry to provide critical recommendations on the standards and certifications selected.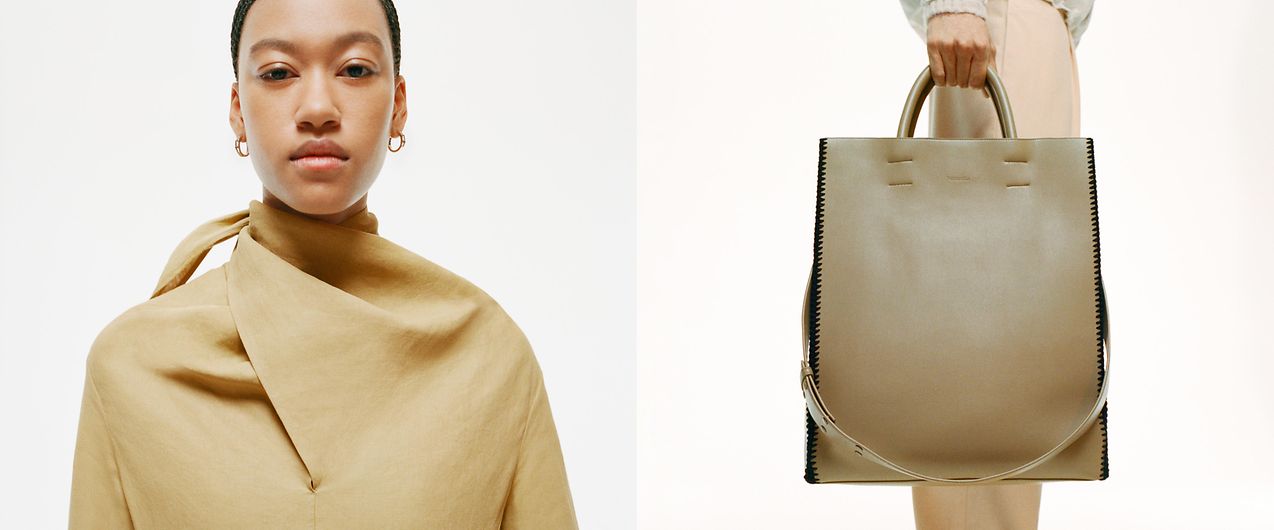 1. Recognized and certified materials
To qualify as Conscious, the product must contain a significant proportion (50% or more) of an independently recognized or certified material, or of a material made using a certified process, from the list below:
LOW-IMPACT MATERIALS
Fique
Grass
Hemp
Jute
Linen / flax
Certified wood
CRAiLAR® flax
Livaeco by Birla Cellulose
Agraloop
Polylactic acid (PLA)
Ramie
FSC certified viscose
EcoVero viscose (LENZING)
Jeanologia 
Sustainable Fibre Alliance (SFA) cashmere
TENCEL™ Lyocell (LENZING)
TENCEL™ Modal (LENZING)
TENCEL™ with REFIBRA™ technology
Texloop
Cotton made in Africa (CmiA)
Better Cotton Initiative (BCI)
Bemberg™ Cupro
Micromodal
ENKA® Viscose
NAIA™ cellulosic fiber
ALTERNATE LEATHER MATERIALS
AppleSkin™
Bananatex®
Desserto® cactus leather
MIRUM
Muskin
Piñatex®
Mylo™ mushroom leather
Zi™ bio leather
VEGEA
ORGANIC MATERIALS
Organic cotton
Organic hemp
Organic linen
Organic silk
Organic wool
Global Organic Textile Standard (GOTS) certified
NATURTEXTIL iVN certified BEST
Organic Content Standard (OCS)
Regenerative Organic Certified™
RECYCLED MATERIALS
ECONYL® 
Morphlon
Recycled brass
Recycled cashmere
Recycled cotton (the proportion of recycled cotton accepted per product is aligned with industry requirement, which is at least 20% of the overall content)
Recycled gold
Recycled nylon
Recycled paper
Recycled PET
Recycled plastic
Recycled plexiglass
Recycled polyamide
Recycled polyester
Recycled rubber
Recycled silk
Recycled leather 
Recycled silver
Recycled wool
Vintage cotton
Recycled viscose
Renewcell
Recycled Content Certification
First Mile Made® by Thread International
Global Recycled Standard (GRS) (the proportion of recycled materials per product is aligned with the certification requirement, which is at least 20% of the overall content)
Parley Ocean Plastic®
Recover® Cotton
NewLife™ recycled polyester
Cardato certification
NuCycl™
SeaCell™ 
Giotex™ recycled cotton
Re-Verso™
Q-NOVA®
UPCYCLED MATERIALS
Upcycled materials include deadstock, reworked fabrics, repurposed scraps etc.
ANIMAL WELFARE CERTIFIED MATERIALS
100% of the animal-derived material in the product (either in the lining or in the outer) must hold one of the following certifications:
Responsible Alpaca Standard (RAS)
Responsible Mohair Standard (RMS)
Sustainable Fibre Alliance (SFA)
The Good Cashmere Standard® (GCS)
Responsible Wool Standard (RWS)
Responsible Down Standard (RDS)
NewMerino® Standard 
ZQ Standard 
Global Traceable Down Standard (Global TDS)
Traceable Down Standard (Downpass)
NATIVA™
CERTIFIED LEATHERS
Leather Working Group (LWG): Bronze, Silver or Gold
ICEC
FOREST-FRIENDLY MATERIALS
Forest Stewardship Council (FSC) certified materials
Programme for the Endorsement of Forest Certification (PEFC) certified materials
FAIRMINED MATERIALS
Fairmined ecological gold
The 50% or more proportion threshold for 'Sustainable and Certified Materials' is applied to all categories of products and it is measured by looking at the main product material, generally identified as the outer. The only exceptions to this rule are: (1) specific shoes categories (including sandals, wedges, slippers, flip-flops) for which both the outer and another shoe component (lining or sole) must be made using eligible materials; (2) products with animal welfare certifications for which 100% of the animal-derived material in the product (either in the lining or in the outer) needs to be certified; (3) for watches & jewelry, the main product material needs to meet the 50% proportion threshold, but the main material is identified by either weight or surface area; (4) if a product is GRS certified, we require the threshold to be aligned with the certification standard, which is at least 20% and (5) for recycled cotton, we accept products with a minimum of 20% of recycled materials due to intrinsic performance issues which prevent an higher use (in particular, the length of cotton fibers is shortened during the recycling process, which means that recycled cotton needs to be blended with other fibres during the spinning process to ensure the resulting yarns are of high strength, good quality and the finished product is durable).
2. Certified processes
To qualify as Conscious, a finished product or an entire brand must hold an independent certification relating to good environmental, social or animal welfare practice as listed below.
CARBON-NEUTRAL CERTIFIED
The entire brand must be certified by one of the standards listed below and the certification must appear on the product label and apply to the whole product 
Certified CarbonNeutral® 
The Carbon Trust
VEGAN CERTIFIED 
PETA certified (the entire brand must be certified)
The Vegan Society Vegan Trademark (the finished product must be certified)
CRADLE TO CRADLE CERTIFIED 
Cradle to Cradle (the finished product must be certified)
ENVIRONMENTALLY CERTIFIED 
A finished product must be certified by one of the following standards:
Nordic Swan
Blue Angel
EU Ecolabel
OEKO-TEX MADE IN GREEN
FAIRLY TRADED MATERIALS
A finished product must be fully certified by one of the following standards:
Fair for Life
The FAIRTRADE Mark (Fairtrade International)
Fairtrade Textile Standard
The World Fair Trade Organization (WFTO)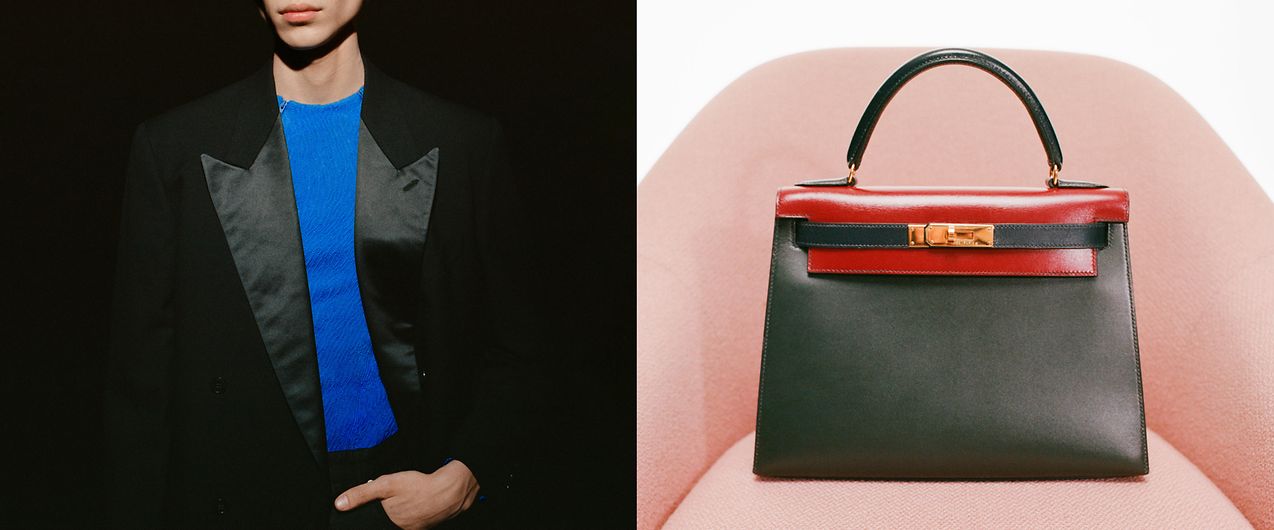 3. Pre-owned
To qualify as Conscious, a product must be pre-owned (meaning second-hand or vintage) as it helps reduce the demand for new resources and keeps products out of landfill.
4. Good On You
To qualify as Conscious, a product must come from a brand that scores well on ethical ratings agency Good On You. The Good On You system assesses a brand's sustainability performance in regards to its impact on People, Animal and Planet and provides a rating on a five-point scale.
To qualify as Conscious, large brands need to score a minimum of four out of five, while small brands must score three out of five. The sustainability ratings are based on publicly available information including industry standards, certifications, other third-party assessments and a brand's own reporting.